Hideo Kojima removed from Metal Gear marketing
[UPDATE] Fallout between Konami and Kojima Productions reportedly has developer departing after completion of Metal Gear Solid V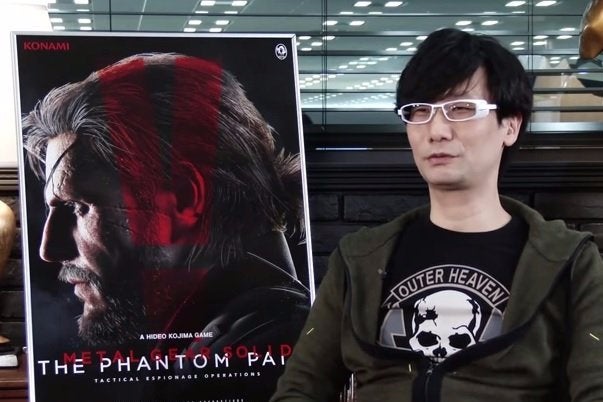 Hideo Kojima's name has been almost synonymous with the Metal Gear franchise for years, but Konami is trying to change that. In the wake of a restructuring, the publisher has taken a number of steps recently to downplay the developer's association with the franchise, as detailed by a number of posters on NeoGAF.
The first evidence that Kojima's role with the company has changed actually came earlier this month, when Konami revealed an organizational restructuring resulting in a host of new titles for those among its executive ranks. Of the seven content officers appointed in July of 2014, only two---Kojima and Shinichi Hanamoto--were left without a new executive appointment. (Hanamoto may have already left the company; he was appointed senior content officer last year, but one of the other content officers was given that title in November).
Beyond that, Konami also changed the official Metal Gear Solid Twitter account. Previously, it was @Kojima_Pro_Live, a reference to the Kojima Productions studio that creates the games. Earlier today, Konami announced the new official Metal Gear Twitter account is @metalgear_en. The Kojima Productions website also now forwards directly to Konami's Metal Gear portal site. Going further still, Konami has removed the tagline "A Hideo Kojima Game" from Metal Gear promotional art on the publisher's official site.
Despite the omission from Konami's executive ranks, Kojima is apparently still employed by the publisher. A Konami representative had not immediately responded to a GamesIndustry.biz request for comment, but sister site Eurogamer was given a short statement saying, "Konami Digital Entertainment, including Mr. Kojima, will continue to develop and support Metal Gear products. Please look forward to future announcements."
Metal Gear Solid V: The Phantom Pain has been announced for release September 1 of this year.
[UPDATE]: GameSpot has more on the situation, citing a source within Kojima Productions with the news that a rift has surfaced between studio management and Konami. According to the report, Kojima and other senior staff are essentially finishing up The Phantom Pain as contractors, and are expected to cut ties with Konami completely at the end of the year. Kojima and other development staff will only be given limited opportunities to help promote The Phantom Pain's launch, and have reportedly already had their access to corporate internet, emails, and phone restricted.