Haunts: The Manse Macabre development in trouble
Successful Kickstarter not enough as 50% of staff leave indie studio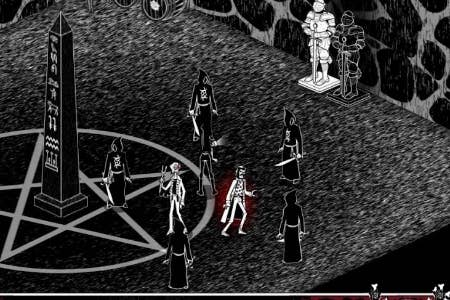 Development on Kickstarter project Haunts: The Manse Macabre has stumbled after the two main programmers working on the game left, leaving just the designer and artist to finish the title.
Haunts raised $28,739 from an initial goal of $25,000 during its Kickstarter campaign but Mob Rules Games has been put in an almost untenable position by staff losses since. Boss Rick Dakan explained the situation in a recent blog post.
"The principal cause for our dire condition is that there are no longer any programmers working on the game," Dakan writes.
"Our lead programmer, Jonathan, was always going to move on to something else after a year or so. We had hoped that he would be able to work on the game in his spare time, but now that he's going back at Google, he has told us that his spare time will be very minimal and not enough to make progress on the game. Our second programmer, Josh, has quit the project entirely to take another job. He does not want to work on the game in his spare time.
"Although I know some small amount about how the level programming works, I'm not capable at this point of fixing the bugs I know about. This is further complicated by the fact that the game is written in the Go programming language, which is not widely used, limiting the pool of potential new programmers."
Since encountering these issues, Dakan has been on the look out for new programmers to push the game through its final stages and updated the Kickstarter page to say that he'd had plenty of offers of help, which will take time to assess. In addition to that, the $28,000 dollars raised has all been spent, meaning that any new staff will be working for good will and an eventual slice of any profit which the game raises.
Dakan has expressed his contrition over the game's status and has offered personal refunds to any backer who wants to withdraw support. Only $30 worth of contributions have been reclaimed so far.
"This has been an emotionally rough couple of months for me," Dakan continues. "I've invested almost all of my time for the past year or more in Haunts, along with my own money and reputation. It's been terrible to watch it fail despite best efforts, but the failure is mine. There are scores of decisions I'd make differently if I had to do them over, and there were bets I made knowing the risks that haven't paid off like we needed them to."