Harvest Moon publisher reaps what it has sown
Natsume CEO Hiro Maekawa celebrates farming sim's 20th anniversary reflecting on a win-win approach to business and how the company is facing more and less competition simultaneously
When Hiro Maekawa took over at Natsume Inc. in the mid-'90s, the American division of Japan's Natsume Co., Ltd. was best known for the Super Nintendo's Pocky and Rocky series, which was well-regarded but not exactly a massive hit. The company had five employees at the time, and even that seemed to be unsustainable.
"At that time, we were selling the video games directly to retailers in the same way as all other publishing companies did," Maekawa told GamesIndustry.biz during an interview at E3 last month. "But soon after, I realized it's very difficult for a smaller company to keep operating in direct sales and distribution. You have to have a warehouse, a warehouse manager, and you have to assume inventory risk at marginal return and price protection. I realized it was impossible, but I couldn't say I was going to close the company."
He reorganized Natsume Inc. and restarted it as a one-person outfit, relying on distribution partners who would have regional exclusivity over Natsume's games.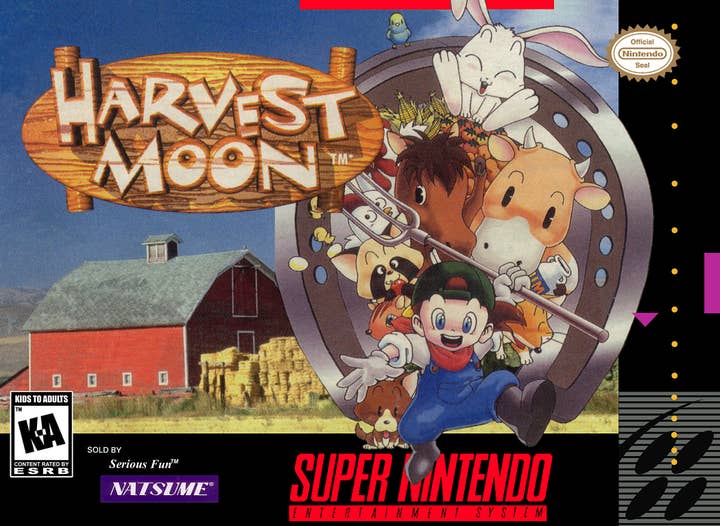 "This was a big challenge simply because at that time, retailers weren't interested in buying frontline products from a distributor," Maekawa said. "They only bought excess inventory at substantially reduced prices. For frontline titles, they bought only from the publishing company. So I visited retailers, and everybody laughed about my idea. But I didn't have any choice. I had to do something. So I said to myself, 'What if I give my distribution partners a special title to which no retailer can say no?' Our distribution partners were the only distributors who had this special title, and it worked."
That title was the family-friendly farming simulator Harvest Moon, which debuted on the Super Nintendo in the US 20 years ago last month. Since then, Harvest Moon has been a mainstay of Natsume's lineup, with 32 titles released.
However, that business was thrown into upheaval several years ago due to a mix of intellectual property rights. Harvest Moon was originally released in Japan as Bokujo Monogatari, but it was Maekawa who gave the series its English name when Natsume first localized it. While the Bokujo Monogatari developer Victor Interactive Software was acquired by Japanese publisher Marvelous and changed names, the partnership continued on new games until 2014, when Marvelous decided it would be better served by publishing the Bokujo Monogatari games in the West through its own subsidiary, XSEED Games. It couldn't do so under the Harvest Moon name as Natsume owned that, so it re-launched the series as Story of Seasons, leaving Natsume with a valuable brand, but no game to sell using it.
"We always listen to what consumers say, and what the media says. That's a very important hint, or inspiration to us on what we should do next."
"That was a big surprise to us, especially to me," Maekawa said. "It was a really scary thing to me because we'd spent time and effort to establish a no-name farming simulation game to become one of the best-known farming simulation games for the entire family. We had tons of loyal Harvest Moon fans, but we couldn't simply say to those loyal fans that there's no Harvest Moon in the future. Fortunately, we learned and accumulated lots of know-how as to what Harvest Moon fans like and what makes them happy by localizing and publishing Harvest Moon games for the past 16 years, so we took that goodbye as a good opportunity for us, based upon our own experience, to take this franchise to the next step so we could continue to make all Harvest Moon fans very happy."
As could be expected, there was a learning curve involved. Natsume's first crack at the series, 2014's Harvest Moon 3D: The Lost Valley, received low review scores by the series' standards. But after taking 2015 off, Harvest Moon returned last year with the franchise's iOS-Android debut Harvest Moon: Seeds of Memories and Harvest Moon: Skytree Village for 3DS, both of which saw warmer critical receptions.
Maekawa said despite the transition, Harvest Moon's audience has continued to grow gradually but steadily around the world, both in its packaged and downloadable iterations. It's an impressive feat for a niche game that has seen considerable growth in competitors of late. The farming simulation genre received a boost years ago from Facebook games like Farmville and Farmtown, but Harvest Moon has also seen a number of closer competitors rise of late. In addition to Marvelous' Bokujo Monogatari games (localized as Story of Seasons), there's Focus Home Interactive's more straight-faced Farming Simulator series, the indie hit Stardew Valley, and a bumper crop of additional indie efforts taking Harvest Moon as clear inspiration. Maekawa said he welcomes the competition and believes they are expanding the genre's overall audience for the benefit of the entire market, even if it sometimes makes feedback harder to parse.
"Some people are complaining, saying, 'I like Stardew Valley very much, why don't you make it like that?'" Maekawa said. "But at the same time, some people are saying, 'We like Natsume's Harvest Moon style.' Users say whatever they want to say."
That's not to discount user feedback in any way. In fact, it's one of the reasons Natsume is bringing the next Harvest Moon to three new platforms. Harvest Moon: Light of Hope will mark the series' first appearance on Switch, Steam/PC, and PlayStation 4.
"We always listen to what consumers say, and what the media says," Maekawa said. "That's a very important hint, or inspiration to us on what we should do next. It's a natural process."
"[Our customers] are losing their interest in 3DS titles as well, simply because of Switch. Everybody's talking about Switch, Switch, Switch!"
Of course, the platform holders also have a fair bit of influence as well.
"Nintendo has now shifted their energy to Switch," Maekawa said. "At this point, I don't think they are interested in DS titles. And our customers aren't interested in DS titles either. They are losing their interest in 3DS titles as well, simply because of Switch. Everybody's talking about Switch, Switch, Switch! So Switch will be not only the next big handheld, but also a console platform. Either way."
Not everything is up for discussion though. After Natsume scored a hit with Reel Fishing (selling more than 1 million copies in the US alone), Maekawa said there was pressure for the company to make a hunting game. Even though there was money to be made in such a project, he refused to go along with it, believing it went against the company's mission of providing family friendly entertainment. Even Reel Fishing he said is not about sport fishing so much as it is about harmony with nature in Maekawa's estimation, "enjoying catching a fish at a spot surrounded by beautiful nature, listening to the birds' sounds."
Even if the farming simulation genre has been getting more crowded, Maekawa reckoned that Natsume will still have a dearth of competition when it comes to the overall market of family friendly games. A survey of the games showcased at E3 2017 would seem to back him up.
"If you take a look at the convention center, everywhere there's fighting or blood, really aggressive games. When you stop by our booths, I assume you'll feel like this," Maekawa said, gesturing to the happy characters on a nearby Harvest Moon poster. "I like to be in that position, so that means non-violent games. Natsume is probably known most as a non-violent, family friendly company, and I don't see many other companies making games like this. Therefore to us, we feel like we have less competition. Of course we have competition like Stardew Valley or Farmville, but this non-violent genre will remain very strong, I think."
"When you try to sign some agreement, put yourself in the position of others to think about what to do. Don't try to get everything from them."
The relative scarcity of Natsume's competition for family friendly games can be attributed partly to attrition. In the days of the NES and Super Nintendo, virtually all console publishers were offering things that would be considered family fare by today's standards. But the industry has undergone waves of upheaval since then, and the club of non-AAA publishers from the 16-bit era that still operate is a small one indeed. Maekawa attributes Natsume's membership in that group not just to hits like Harvest Moon and Reel Fishing, but to the company's guiding principles.
"This company's philosophy is to make everyone happy," Maekawa said. "Everyone means Natsume employees, and our customers, which means our development partner, our distribution partner, financial institutions, of course Nintendo and Sony's first-party teams, and anybody who is directly or indirectly connected with Natsume products. We are trying to make them very happy. To make them happy, this company has a code of conduct I keep saying to my employees. Whenever you make some decision, follow the code of conduct. When you try to sign some agreement, put yourself in the position of others to think about what to do. Don't try to get everything from them. Put yourself in their position and ask what they think. Do they think what you're offering is fair, or do they think you're so greedy? Put yourself in their position."
Other key points for Maekawa included listening to what other people say and consider it before speaking up, and not acting against social mores or social justice. And perhaps above all, whenever Natsume employees do anything, they should act with honesty, integrity, and thoughtfulness.
"If we do business in a way where we just pay a very small amount of money and take everything from our development partner, they can't survive," Maekawa said. "Therefore, we can't make them happy. If you give a really small discount to distribution partners because your product is very well known and notable, we take the benefit, but the distribution partner can't survive. We're looking for the win-win situation."