Halo Wars: Bungie saw it as "whoring out franchise" says Ensemble founder
Tony Goodman looks back on the problems encountered while working on Halo Wars for Microsoft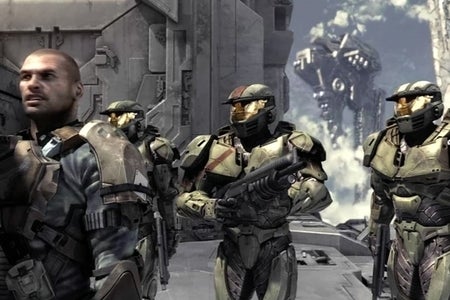 Halo Wars hit store shelves in March 2009. It was the last hurrah for the talented folks at Age of Empires developer Ensemble Studios. It was never meant to be a Halo game, however, and that unfortunately led to all sorts of friction between Ensemble, Bungie and Microsoft. In an interview to be published tomorrow on GamesIndustry International, Ensemble founder Tony Goodman reflected on the studio's last project.
Goodman called Halo Wars a "really fantastic, under-recognized product," but he also lamented how Microsoft forced Master Chief on the project after they were far into development.
"Microsoft was pretty risk averse and they said, 'I don't know if we want to take the risk of creating strategy games on a console. We'd feel better if Halo were attached to it.' The difficult part of that was it took the game back about a year in development, and I think it never quite turned out the same. They just said, 'Why don't you just paint over what you have with Halo stuff?' But things aren't quite that simple," Goodman noted.
The whole situation was made even worse by tension building up between Ensemble and Bungie. While Bungie didn't have the bandwidth to take on the project on their own, the studio, according to Goodman, didn't appreciate the IP being used in another title in a different genre.
Interestingly, this goes against what Bungie AI specialist Damian Isla told Eurogamer back in 2008. "We've done a lot of talking with Ensemble guys, and we're all really excited about Halo Wars, because from everything we've seen so far it's a very cool, faithful adaptation... Everything we've seen has been very, very encouraging - we're very excited about it," Isla said at the time.
That's not how Goodman recalls it, however. "Another problem was that Bungie was never up for it... Bungie was kind of sore about the idea. What they called it was 'the whoring out of our franchise' or something. Yeah, that didn't create a great relationship between us and Bungie; they viewed us as someone infringing [on their franchise]," he noted.
It was a tough period for Goodman and his studio, but in the end, he's happy to be on his own now, having just launched his first game from PeopleFun called Word Chums. We chatted with Goodman about that and much, much more. Stay tuned for the full interview. Update: You can now read the entire interview here.