Hades cleans up at inaugural IGDA Global Game Industry Awards
Supergiant's roguelike picked up nine accolades, other winners include Half Life: Alyx and Ghost of Tsushima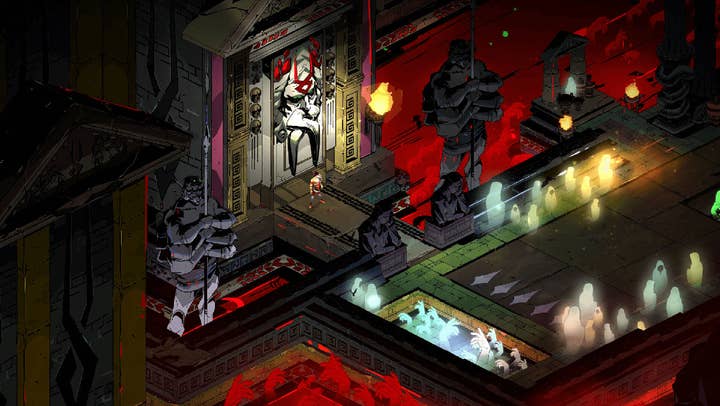 Hades has swept up a handful of accolades at the 2021 Global Game Industry awards, hosted by the International Game Developers Association (IGDA).
Developer Supergiant Games took home nine awards for the dungeon crawler, including Best Dialogue and Narrative Design, UI/UX Design, and Representation.
Other big winners from the evening include Sucker Punch's Ghost of Tsushima, which snapped up four awards including World Building and Sound Design. Half Life: Alyx and The Last Of Us Part 2 secured three accolades apiece for Valve and Naughty Dog, respectively.
Finnish studio Nolla took home two awards for roguelike adventure Noita -- Graphics Technology and Visual Effects. Mediatonic's Fall Guys collected the Customer Support and Gameplay Design awards.
Innersloth's Among Us picked up the Community Management award, and Kinetic Games also picked up the award for Upcoming Indie for its horror hit, Phasmophobia.
39 awards were given out in total. Check out the full list of winners below:
Art
2D Animation - Supergiant Games' Hades
2D Character Design - Supergiant Games' Hades
2D Environment Art - Moon Studios' Ori and the Will of the Wisps
3D Animation - Naughty Dog's The Last of Us Part II
3D Character Art - CD Projekt RED's Cyberpunk 2077
3D Environment Art - Sucker Punch's Ghost of Tsushima
Cinematography - Naughty Dog's The Last of Us Part II
UI Art - Supergiant Games' Hades
Visual Effects - Nolla Games' Noita
Audio
Music Composition - iD Software's DOOM Eternal
Sound Design - Sucker Punch's Ghost of Tsushima
Voice Acting - Supergiant Games' Hades
Design
Accessibility Innovation - Ubisoft Montreal's Assassin's Creed Valhalla
Gameplay Design - Mediatonic's Fall Guys: Ultimate Knockout
Level Design - Valve Corporation's Half-Life: Alyx
Serious Game Design - Dry Cactus' Polybridge 2
Systems Design - Supergiant Games' Hades
UI/UX - Supergiant Games' Hades
Engineering and Technology
Achievements in New Technology - Valve Corporation's Half-Life: Alyx
Artificial Intelligence - Ubisoft Montreal's Assassin's Creed Valhalla
Audio Technology - Sucker Punch's Ghost of Tsushima
Engine Technology - Epic Games' Unreal Engine 4
Gameplay Technology - Valve Corporation's Half-Life: Alyx
Graphics Technology - Nolla Games' Noita
Networking Technology - Asobo Studios' Microsoft Flight Simulator
Systems Technology - Ubisoft Toronto's Watch Dogs: Legion
Support
Community Management - Innersloth's Among Us
Customer Support - Mediatonic's Fall Guys: Ultimate Knockout
Marketing - Microsoft's Xbox Game Pass
Production/Management - Insomniac
Quality Assurance - iD Software's DOOM Eternal
Research & Analytics - Asobo Studios' Microsoft Flight Simulator
Writing and Narrative
Dialogue - Supergiant Games' Hades
Narrative Design - Supergiant Games' Hades
Story - Naughty Dog's The Last of Us Part II
World Building - Sucker Punch's Ghost of Tsushima
Miscellaneous
Representation - Supergiant Games' Hades
Upcoming Indie - Kinetic Games
Diversity and Inclusivity - Microsoft