Guild Wars 2 could impact Activision Blizzard's stock
A break down of the possible repercussions of World of Warcraft subscriber loss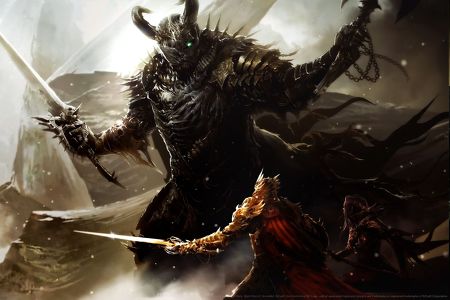 Activision has had a highly rated stock for a while by analysts, but much of that is dependent upon the revenue of World of Warcraft and the Call of Duty series. With worries about the long term longevity of World of Warcraft in particular, it's raised a few eyebrows that 60 percent majority shareholder Vivendi is looking to sell its shares in Activision Blizzard.
"Vivendi is a publicly traded French company that has seen its shares steadily battered for the last three years," writes Agustino Fontevecchia of Forbes. "The shares have fallen from a high of 23.90 euros all the way down to a low of 12.70 euros, leaving shareholders very angry with management. Fearing for their jobs, management at Vivendi has decided to sell some of their equity interests around the world in an effort to boost their own share price."
"Activision was their first logical candidate for sale. The stock has done virtually nothing for the past two years, usually trading in a tight range between $12.50 and $11.50," he notes. "The only times that we have seen this company spike was when a new hit videogame was released, usually causing the stock to make a sudden 5 percent jump only to quickly trickle back down over the coming week. Not much can be said about this company in terms of dividends either; the common has a yield of 1.6 percent."
"If you were on the management team of Vivendi would you honestly not cut your losses by selling ATVI when the chief game of the company suddenly begins failing to competition?"
Originally, Vivendi planned to sell its majority ownership in Activision Blizzard for a 20 percent premium on the private market. Finding no takers, even using Goldman Sachs and Barclays, they lowered their pricing down to a 12 percent premium and failed in this as well - not a good sign for a company that wants to divest itself of Activision Blizzard as soon as possible and for good reason.
"World of Warcraft (WoW) has helped Activision Blizzard maintain its stock price, with this one single game providing roughly 30 percent of the revenue for the entire company via its expansion packs and monthly payments," writes Fontevecchia. "Subscription revenue alone totaled $1.2 billion both in 2008 and 2009, and an additional $1.36 billion in 2010. Corresponding costs (the overhead cost of maintaining WoW's virtual world) totaled a mere $404 million in the first two years mentioned, and $241 million in 2010. This means that WoW subscriptions have generated gross margins over 80 percent consistently. Since WoW has very high operating leverage any decline in revenue will have dramatic effects on the bottom line."
Guild Wars 2 is a notable competitor, and might potentially edge out World of Warcraft in its appeal since playing it does not require a subscription fee. Many other MMOs are on the market and offer a majority of their content for low cost or completely free, something Activision Blizzard acknowledges is an issue.
"Subscription revenues from this game comprise a significant portion of our consolidated revenues," said Activision in a report. "A number of software publishers have developed and commercialized, or are currently developing, online games for use by consumers over the Internet which pose a threat to the popularity of World of Warcraft, and we expect new competitors to continue to emerge in the MMORPG category. If consumer demand for World of Warcraft games declines and we have not introduced new MMORPG or other products that replace World of Warcraft's potentially decreasing revenue, or added other sources of revenue, our financial condition could suffer."
A theoretical scenario is that World of Warcraft loses 25 percent of its subscribers to Guild Wars 2, which would reduce the company's gross profit of the subscription business from $1.12 billion to $779 million and software gross profit could diminish from $100 million to $75 million. This could translate into a drop of up to $366 million in gross profit for Activision for the six months after the release of Guild Wars 2.
Activision Blizzard's stock as a result of this could go down to around $9. A this point, Vivendi could be forced to sell its Activision Blizzard share on the open market, which could damage the stock even more.
"Even though Vivendi is currently exploring several options to raise its stock price, we ask you to make a simple judgment call here. If you were Vivendi, would you not sell a company that is losing massive percentages of market share to its competitors? If you were on the management team of Vivendi would you honestly not cut your losses by selling ATVI when the chief game of the company suddenly begins failing to competition?"
"Management departments at both firms have been warned and short sellers should stand ready to act after ATVI reports on August 2nd during afterhours. Let the bulls bid up the stock based on the record breaking Diablo 3 sales, it only helps to mask the coming fundamental problem of the business," concludes Fontevecchia.