GTA V ships 52m as Take-Two's annual revenue dips to $1.1 billion
Publisher enjoys one of its "best years ever" according to Strauss Zelnick [UPDATE: sales for NBA, Evolve, & more]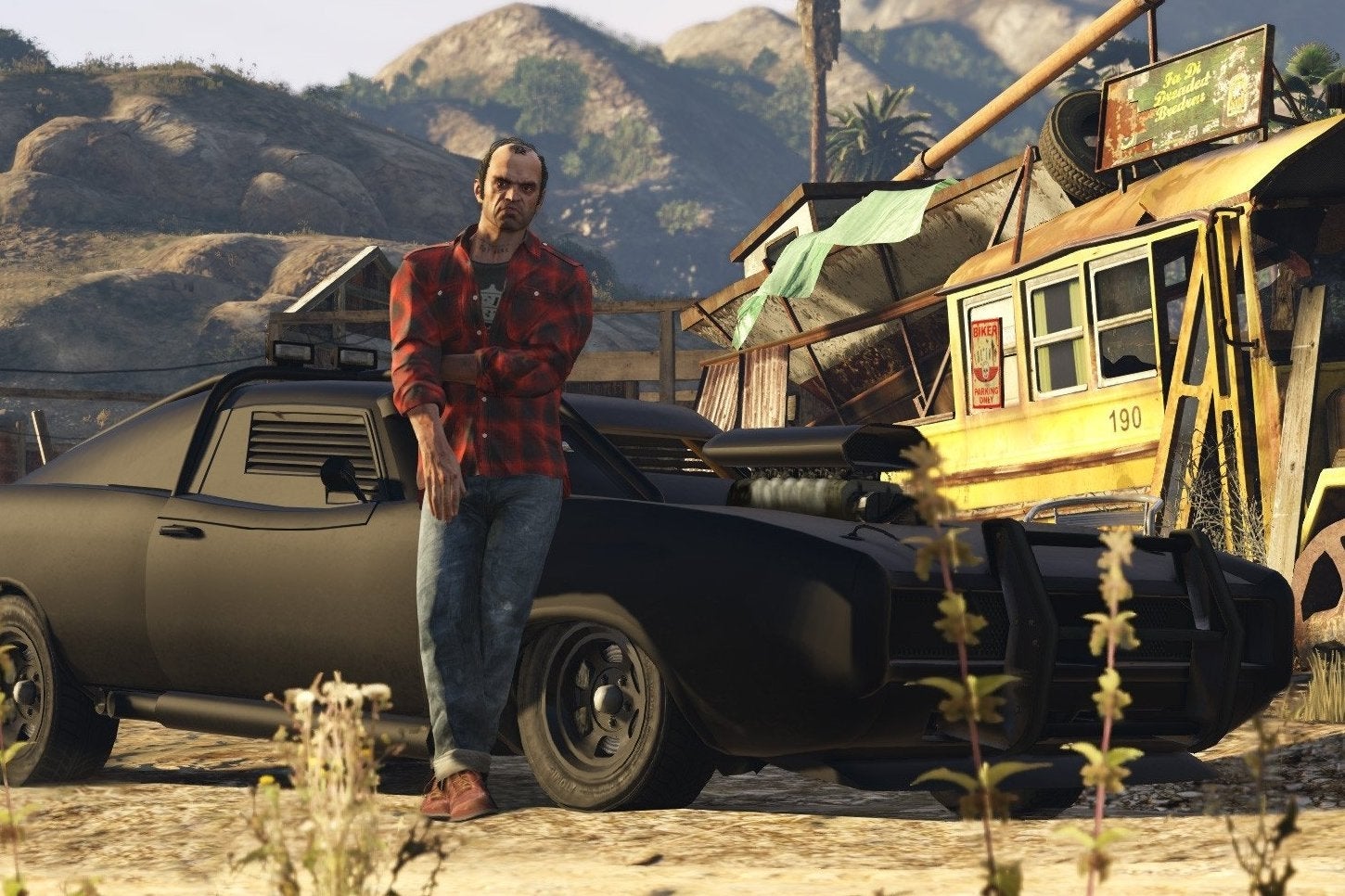 Take-Two Interactive has just announced its fourth-quarter and full-year fiscal results for the period ended March 31, 2015. On a GAAP basis, net revenue grew 54 percent year-over-year to $300.1 million, while net loss was $242.8 million (compared to $30.8 million a year ago). Non-GAAP, net revenue grew 83 percent to $427.7 million and net income increased to $54.3 million (up from $21.5 million a year earlier).
The fourth quarter was helped by Grand Theft Auto V, which now has shipped 52 million copies globally, Grand Theft Auto Online, Evolve, NBA 2K15 and Borderlands: The Handsome Collection. Importantly, non-GAAP net revenue from digitally-delivered content grew 66 percent year-over-year to $202.5 million, Take-Two said. Revenue from "recurrent consumer spending" as Take-Two calls it (virtual currency, downloadable add-on content and online games) also grew 47 percent year-over-year and accounted for 54 percent of digitally-delivered content sales.
Looking at the full year, GAAP net revenue was more than halved, dropping from $2.351 billion in fiscal 2014 to $1.083 billion this year. It's important to note the tough comparison, though, as fiscal 2014 was when Take-Two enjoyed the record-breaking launch of GTA V on consoles. GAAP net loss in fiscal 2015 came to $279.5 million, as compared to GAAP net income of $361.6 million in fiscal 2014. Non-GAAP, sales fell from $2.414 billion to $1.669 billion, while net income dropped from $510.7 million to $219.2 million. Take-Two continues to see improvements in its digital business, as non-GAAP net revenue from digitally-delivered content grew 42 percent year-over-year to a record $616.0 million, the publisher said.
Despite the stark difference between fiscal 2014 and fiscal 2015 (which could sway some to still believe that Take-Two's success depends far too heavily on GTA), management was quite pleased with the recent quarter and full-year performance.
"Our strong fourth quarter revenues and better-than-expected Non-GAAP profits marked an outstanding close to one of our Company's best years ever," said Strauss Zelnick, Chairman and CEO of Take-Two. "During fiscal 2015, we seamlessly launched five triple-A titles for the holiday season led by Grand Theft Auto V and NBA 2K15; added an exciting new franchise with the successful release of Evolve; and achieved record digitally-delivered revenue, including our highest-ever revenues from recurrent consumer spending. Our business generated significant cash flow and, as a result, we ended the fiscal year with $1.1 billion in cash and short-term investments.
"Fiscal 2016 is off to a great start, highlighted by the April launch of Grand Theft Auto V for the PC, which has exceeded our expectations. Throughout the coming year, we will continue to execute our proven strategy of launching a select array of the highest-quality titles, led by new annual releases of NBA 2K and WWE 2K; Battleborn, a groundbreaking new intellectual property from Gearbox Software; and a soon-to-be announced new triple-A title from 2K. We also will continue to deliver innovative offerings designed to promote ongoing engagement with our games and drive recurrent consumer spending. Beyond fiscal 2016, we have a robust development pipeline and our Company is well-positioned to deliver growth and margin expansion over the long-term."
For fiscal 2016, Take-Two provided inital guidance of $1.3 billion to $1.4 billion in non-GAAP net revenues and non-GAAP net income per share of $0.75 to $1.00. Also, along with its fiscal results today, Take-Two announced that its Board of Directors approved an increase to its share repurchase authorization up to an aggregate of 10 million shares of Take-Two's common stock.
Update: On the earnings call this afternoon, Take-Two outlined some sold-in (shipped) figures not in the fiscal report. New IP Evolve has now sold-in 2.5 million, WWE has sold-in approximately 3 million, the NBA 2K franchise has sold-in nearly 7 million, and the Borderlands franchise sold-in 25 million units (with 8 million in fiscal 2015 alone). Take-Two said that for Borderlands: The Handsome Collection sales exceeded expectations with more than 20 percent coming from digital.