GTA V becomes third most-watched game on Twitch thanks to role playing server
Live viewership hours increases nearly sixfold in space of single month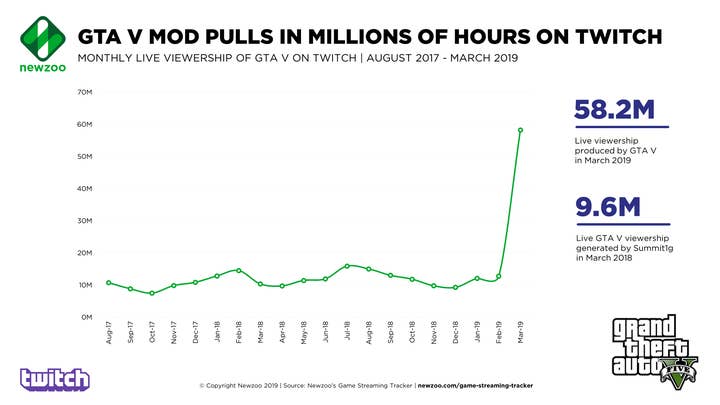 The rise of role playing servers saw Grand Theft Auto V become the third-most watched game on Twitch last month.
According to data from market intelligence firm Newzoo, it is now ranked No. 3 on Twitch's most-watched games by total live hours viewed.
Since February the viewership of GTA V has risen from just over ten million live hours to 58.2 million.
Newzoo's Game Streaming Tracker shows the viewership of GTA V remained stable between August 2017 and February 2019, generating anywhere between seven million and 16 million live hours per month on Twitch.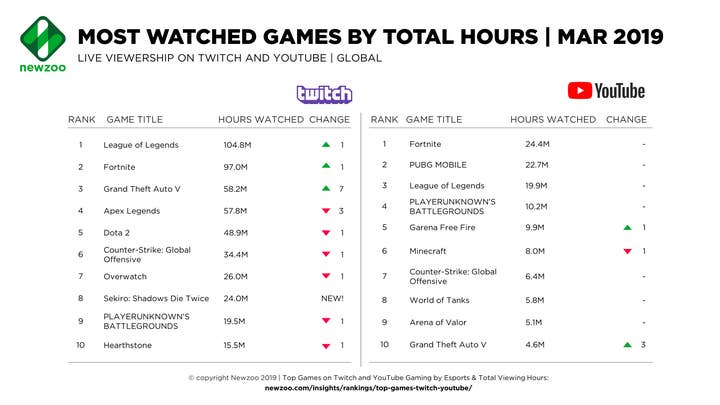 Driving this growth is the phenomenally popular NoPixel server which uses FiveM's role playing mod.
The server sees players log in to the world of GTA as regular citizens -- as opposed to gun-toting sociopaths -- and role play accordingly.
It accommodates 32 players at a time, and has a waiting list to join. Players can donate to the server in order to bump up the list, but even then must complete an eligibility questionnaire and follow strict community guidelines.
GTA V's new place in the charts has knocked several streaming giants down a spot, including Apex Legends, DOTA 2, Counter-Strike: Global Offensive, and Overwatch.
The preliminary April figures appear to continue the trend, and there's no sign of it easing up any time soon according to Newzoo. 4