Grand Theft Auto Online just had its best holiday quarter ever
Six and a half years after launch and 120m units sold, Rockstar's behemoth leads Take-Two Interactive's Q3 alongside Red Dead Online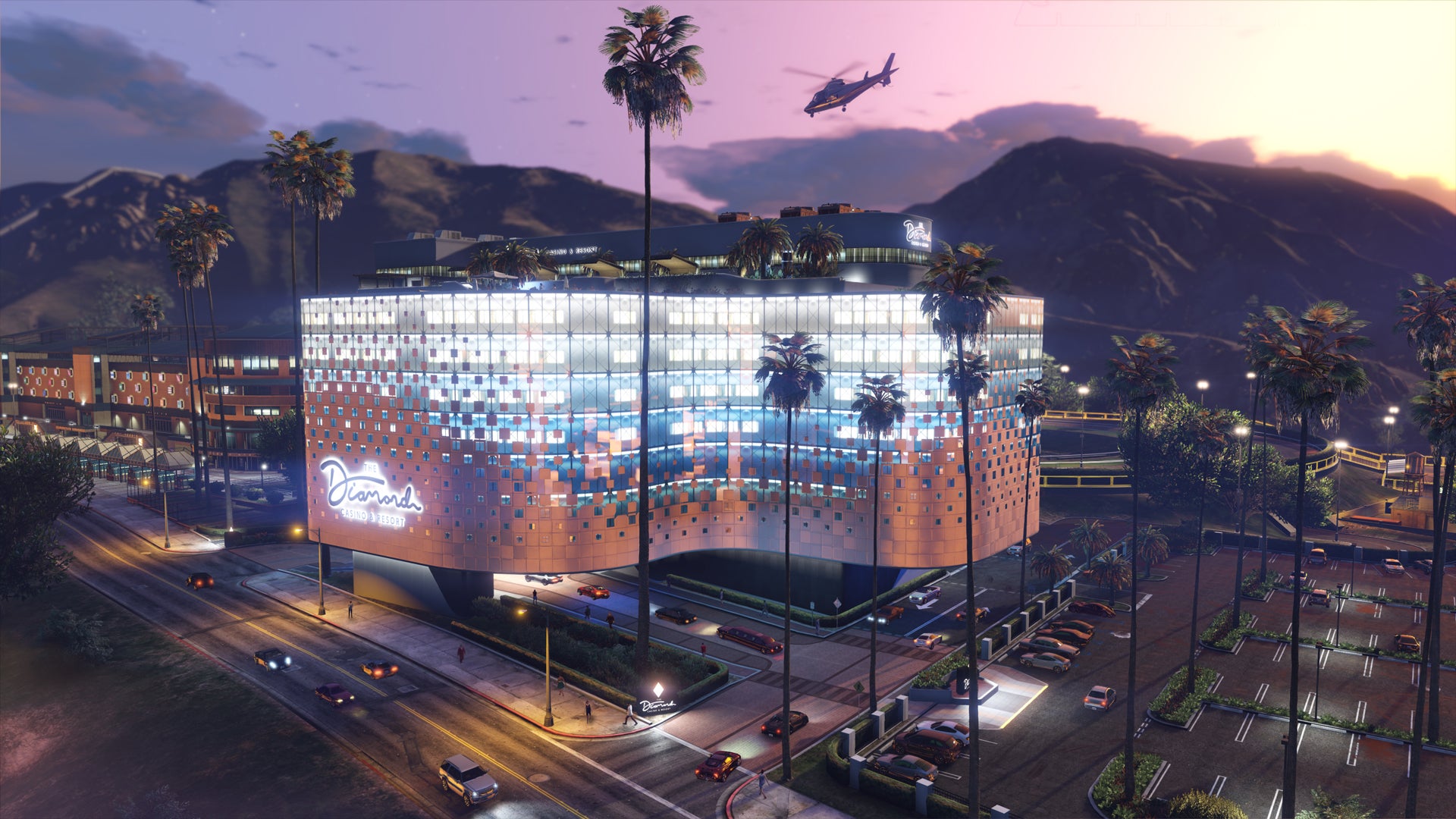 Six and a half years after its launch, Grand Theft Auto Online just had its best holiday quarter ever in both audience size and net bookings.
Take-Two Interactive has reported its Q3 financial results, sharing that thanks in no small part to the Diamond Casino and Resort and Diamond Casino Heist updates, Grand Theft Auto Online exceeded the publisher's expectations and is now on track to set a new record for recurrent consumer spending for the full fiscal year. And furthermore, Grand Theft Auto V has now crossed the milestone of 120 million units sold.
But Grand Theft Auto isn't the sole proprietor of Take-Two Interactive's comfortable holiday quarter. Red Dead Redemption 2 was also a major contributor, having now surpassed 29 million units sold. Outer Worlds has now sold over two million, having "significantly succeeded expectations" despite the fairly unusual decision by Take-Two to launch the game on Xbox Game Pass day-one.
"Putting out something on Game Pass in this way was a test," said Take-Two CEO Strauss Zelnick in a call with GamesIndustry.biz today. "We're gratified that it worked out incredibly well...having it on Game Pass day and date was quite a different approach than the one we'd normally take.
"We see subscription vehicles as more catalog-friendly than frontline friendly, but we reserve the right to make unique decisions in unique circumstances."
Other contributors included Borderlands 3, which has now sold nearly eight million units; mobile titles including NBA 2K Online in China (which just reached over 48 million registered users) and WWE SuperCard (which has now reached 20 million downloads); and NBA 2K20, which has now sold over eight million units.
However, Take-Two reports that NBA 2K20 is not seeing across-the-broad growth in recurrent consumer spending -- some game modes are doing better than others, though Take-Two did not specify which. As a result, Take-Two said it no longer expects lifetime net bookings for the game to set a series record, and plans to address the issues in future versions of NBA 2K.
When asked for clarity on which elements of the game were underperforming, Zelnick declined to specify, but he did say that "The economy was changed in a way that didn't generate as much recurrent consumer spending."
It is possible he is referring to the somewhat-controversial decision to place a heavier-than-usual focus on gambling and casino-style elements in the game's MyTeam mode, though it's difficult to determine the precise impact of the game's economy on recurrent spending. While gambling elements were off-putting to many critics, some pointed out that the game may have been too generous with its currency, and 2K senior producer Erick Boenisch told USGamer ahead of the game's launch that "We didn't want people to feel like they were so trapped in this grind anymore."
With Google Stadia's launch last quarter, Take-Two released three games on the streaming platform: Red Dead Redemption 2, NBA 2K20 and Borderlands 3. Speaking to Zelnick, I asked him if he was concerned at all about the lukewarm response to the streaming service's launch. His response was untroubled.
"We feel it's early days," he said. "We do believe in streaming as a distribution vehicle, distribution technology. We certainly are supportive of our friends at Google; it is early days though."
He added that Take-Two was open to considering other streaming platforms beyond Stadia as well.
"We're very open-minded and our strategy is to typically be wherever the consumer is and to work with as many people as we can on distribution."
In total, Take-Two interactive reports net bookings of $888.2 million, compared to $1.569 billion during last year's Q3 (down due to the comparison with the launch of Red Dead Redemption 2 last year, but still within the company's outlook). Net bookings from recurrent consumer spending grew 6%, accounting for 41% of all total net bookings. And digital net bookings reached $690.6 million, slightly down from last Q3's $703.8 million and accounting for 78% of all net bookings.
For the quarter, net revenue was $930 million, and income from operations was $177 million.
Looking ahead to the coming year, Take-Two anticipates more updates to games such as Borderlands 3, GTA Online, and Red Dead Online, as well as the release of The Outer Worlds on Nintendo Switch and the launches of Private Division titles Disintegration and Kerbal Space Program 2 (With the original Kerbal Space Program having now sold nearly 4 million units). Additionally, ten games are current in various stages of development at Take-Two mobile arm Social Point.
The publisher's Q4 outlook expects net bookings to range from $540 million to $590 million, with recurrent consumer spending up 10% and digital net bookings increasing by over 20%. Take-Two's forecast assumes that 66% of its current-generation console games will be digitally-delivered, up from 57% year-over-year.
For the full year, Take-Two is increasing the low-end of its projections while maintaining the high-end thanks to higher expectations for Grand Theft Auto Online, GTA V, and The Outer Worlds, though that's offset by reduced expectations on Borderlands 3 and NBA 2K. It now projects net bookings to range between $2.8 billion and $2.85 billion (the prior low end was $2.75 billion)
Overall, what should have been a somewhat quieter year for Take-Two Interactive without a Red Dead Redemption 2 giant to carry it turned out to be a banner one for milestones. But one major event that wasn't touched on in the financials was the recent departure of Rockstar co-founder Dan Houser. I asked Zelnick at the end of our call how he anticipated it would affect Rockstar going forward, particularly given Houser's influence on the studio's more recent revenue giants: Grand Theft Auto V and Red Dead Redemption 2.
"We're grateful for his contributions and we respect all of our team members greatly, and the fact that they may move on does not in any way influence that respect, and we wish Dan well," Zelnick replied. "That said, he has been on an extended leave for quite some time, and during that time Rockstar has gone from strength to strength. Most recently, announcing that Red Dead Online in the quarter was up sequentially and up year-over-year in a very meaningful way and has gained great momentum. And Grand Theft Auto Online had its best quarter ever and is expected to set a new record.
"Rockstar Games individually, and Take-Two as a whole, are a team sport. The team leader at Rockstar Games is Sam Houser, who founded the label, and we believe in the entire team, led by Sam. We feel really great about it, even as we wish Dan well on the next chapter in his career."
I pointed out that while Rockstar and Take-Two had enjoyed a strong year even without Houser's presence, that year had not involved any major GTA or Red Dead Redemption-level new releases.
"We launched the most successful downloadable online content ever with Diamond Casino and Resort and the Diamond Casino Heist, and those were both launched well after Dan's leave began," Zelnick said.