Google promises "PC gaming graphics in your pocket"
New Android version to offer improved visuals; company also unveiled its Android TV product, which plays movies, games and more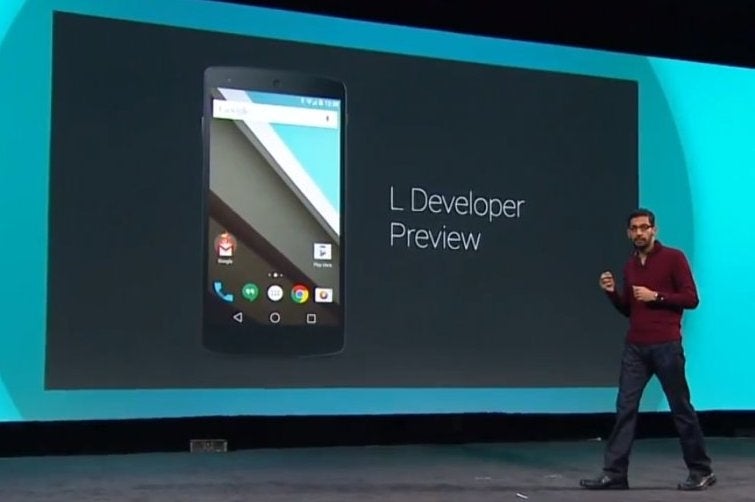 At the Google I/O conference today, the company unveiled its plans for the next version of Android, a wearable smartwatch called Android Wear, a new TV product called Android TV, and more. For some quick summaries of the tech discussed, you can check out live blogs (like this one on Business Insider) but the two areas most relevant to the games industry are the new Android operating system and the Android TV device.
Much like Apple is introducing Metal, a way to optimize graphics for games and apps in iOS 8, the upcoming version of Android called Android L will greatly enhance visual fidelity according to Google. The Android Extension Pack brings with it graphical features like tessellation, geometry shaders, and texture compression. Google showcased Unreal Engine 4 with water reflections and sophisticated lighting typically seen on PCs. Indeed, Dave Burke, Android engineering director at Google, boasted, "Quite literally, this is PC gaming graphics in your pocket."
Google has been working with top graphics firms like Nvidia, Imagination Technologies and ARM on the extension pack for Android L, which should become available to developers soon. Consumers will see the new Android version this fall.
Moving on to Android TV, the product is Google's latest attempt at the streaming, smart TV business. The company failed with Google TV in 2010, but Chromecast has been faring much better and this seems to take that idea further, more along the lines of Amazon's Fire TV. Android TV can control cable/satellite TV (similar to Xbox One) and it also claims to make it much easier to search for video content using Google Now search functionality and linking up with Android phones to offer voice search. In addition to working with phones, the Android TV can coordinate with the new smartwatch, tablets and game controllers. Google showed some people enjoying a multiplayer game with one player using a tablet and the other using a TV and controller.
Rather than focus on the hardware itself, Google said it's collaborating with other firms to offer a variety of streaming devices and Android-powered smart TVs. Android TV devices are expected from Asus, LG, and notably from a gamer's perspective, Razr. What impact Android TV will actually have on the games sector remains to be seen.
Update: Google also announced a few updates to its Google Play store, in order to help developers increase engagement and better monetize apps. Like Xbox Live or Apple's Game Center, Google Play will offer Game Profiles to let players earn points and compare their status and achievements with friends. Additionally, Google is adding in a Quests function, so developers can create live-operation events for players - players can be rewarded, which hopefully leads to better engagement, and thus, monetization. Finally, a new game saves function will allow developers to store a player's progress in a game.