Apple "investing a ton in the App Store" with iOS 8
Latest mobile OS coming this fall and will offer beta testing and previews for customers; new graphics optimization called Metal as well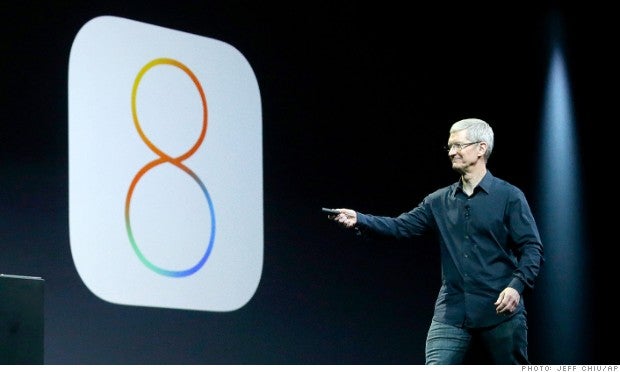 During Apple's WWDC at the Moscone Center in San Francisco today, the company made numerous announcements surrounding the Mac, OS X Yosemite and iOS, but there were a couple that game developers will probably care about most. One is the improvement Apple is bringing to its App Store. With iOS 8 launching in this Fall, Apple CEO Tim Cook noted that it's the "biggest release since the launch of the App Store" itself and Apple is "investing a ton" in the store. The second is a new optimization engine for graphics called Metal.
In addition to improved search, new editor's choice logos for apps, and the ability to sell app bundles (offering multiple apps at a discount), Apple is going to allow developers to put up preview videos on apps (which is a natural fit for game trailers, of course) and, perhaps more interesting still, Apple is starting up a feature called Test Flight - this function essentially enables developers to invite users to beta test their apps. Being able to beta test a game via the App Store will no doubt be very useful for many game developers who want to test out games before full releases.
With Metal, Apple said it's been working with leading providers of gaming engines (EA, Unity, Epic, etc) to offer the best possible results on iOS devices. Metal is designed to optimize performance and graphics specifically of the A7 chip. Epic boss Tim Sweeney took the stage to showcase an environmental demo called Zen Garden. Sweeney said that Metal offers a tenfold improvement in rendering efficiencies, and he noted that Zen Garden will be made available for free when iOS 8 becomes available. Apple also briefly showed EA's Plants Vs Zombies Garden Warfare and remarked on how the Frostbite engine now works with iOS thanks to Metal.
Other enhancements that Apple described included more improvements to SpriteKit (a 2D casual games engine) and the company announced SceneKit to enable developers to build 3D casual games. Apple also went on to introduce a new programming language called Swift, which essentially removes the baggage of the C programming language.