Google founders protect long-term influence with stock-split
New stock class announced alongside strong first quarter results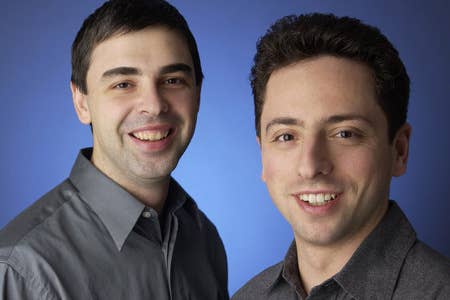 Google has introduced a stock-split, unanimously approved by its board of directors, that will keep control of the company with founders Larry Page and Sergey Brin.
A letter explaining the decision to investors was released alongside its financial results for the quarter ending March 31 2012, during which revenues hit $10.65 billion, a 24 per cent year-on-year increase, and net income rose from $1.8 billion to $2.89 billion.
In the letter, CEO Larry Page explained that the impact of Google's services since its IPO in 2004 has, "made us even more impatient to do important things that matter in the world."
Page referred to the letter issued by the founders in 2004, which attributed its corporate structure - designed to prevent "outside" parties from influencing the company's direction - to the need for "time, stability and independence" in order to achieve its goals.
"Having the flexibility to use stock without diluting our structure will help ensure we are set up for success for decades to come"

Larry Page, CEO, Google
In 2004 the structure was regarded as controversial, and the letter described investing in Google as an, "unusual long-term bet on the team." However, time has proved the strategy to be correct, and a similar structure has since been implemented by companies like Zynga and Facebook.
The new stock-split does even more to ensure that the founders' voting power is not diminished over time. Google will issue a "new class of non-voting capital stock", listed on the NASDAQ, to its existing shareholders via a stock dividend. Each existing share will be matched by a share from the new class.
"It's effectively a two-for-one stock-split - something many of our investors have long asked us for," the letter reads. "These non-voting shares will be available for corporate uses, like equity-based employee compensation, that might otherwise dilute our governance structure."
"Having the flexibility to use stock without diluting our structure will help ensure we are set up for success for decades to come."
The breadth of Google's business ultimately means more competitors, and investors have often questioned how the company will meet the challenges presented by rapidly changing technological landscape. However, Page believes that the ability to take long-term risks has been vital to the company's success, and the new stock will free the founders from the need to respond to short-term pressures.
"We are honoured that so many of you have put your trust in us and we recognize the tremendous responsibility that rests on our shoulders. We think this is a good thing because users rely on Google to produce and operate amazing technology products and to safely and responsibly store their data. This is our passion."
Since Page took the role of CEO in April 2011 he has reorganised the company's management structure to increase accountability. He also trimmed back more than 30 internal products to improve its focus and profitability.
In a another letter, issued to investors last week, Page stressed the importance of its investors putting faith in its long-term goals, citing the initial scepticism around monetising search as a big bet that paid off handsomely. There is now similar scepticism surrounding the future profitability of products like YouTube, Gmail, Android and Chrome.
"People rightly ask how we'll make money from these big bets," he said. "We understand the need to balance our short- and longer-term needs because our revenue is the engine that funds all our innovation. But over time, our emerging high-usage products will likely generate significant new revenue streams for Google as well as for our partners, just as search does today."
"Our goal is long-term growth in revenue and absolute profit-so we invest aggressively in future innovation while tightly managing our short-term costs."