GOG Galaxy 2.0 to sell Epic Games Store titles
The client will offer games that were previously exclusive to Epic's platform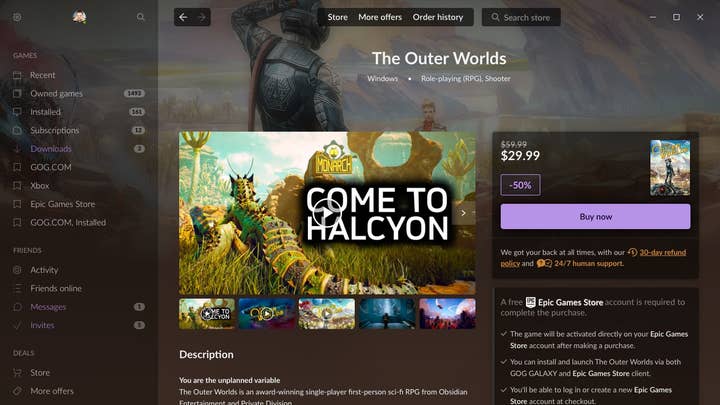 The latest version of digital platform GOG Galaxy will let players buy games from the Epic Games Store, including some previously exclusive to the platform.
The offer will at first only apply to a reduced group of players to test the service, which just launched in closed beta, GOG said. The announcement seemed to suggest that other platforms could also be integrated to the client in the future.
"In the new store, we will be welcoming games from both GOG.COM and beyond -- including titles previously exclusive only to other gaming platforms," the announcement said yesterday. "With the internal beta launching today, invited users will have the option to buy games from a selection of hand-picked Epic Games Store exclusive titles, alongside all GOG.COM games."
It's worth noting that users will still need an Epic Games Store account to benefit from this option, and that games will be available to install and launch both via the GOG Galaxy client and the Epic Games Store client once purchased.
All purchases from GOG Galaxy 2.0 will get from the same benefits, including the 30-days refund policy and the 24/7 support.
The firm said that being able to buy games from other platforms was the most requested feature since launching GOG Galaxy 2.0 at the end of 2019.
The client recently expanded its refund policy to 30 days, saying it was trusting users for "making informed purchasing decisions."