Ghost of Tsushima holds No.1 as Paper Mario slips l UK Charts
Animal Crossing: New Horizons returns to No.2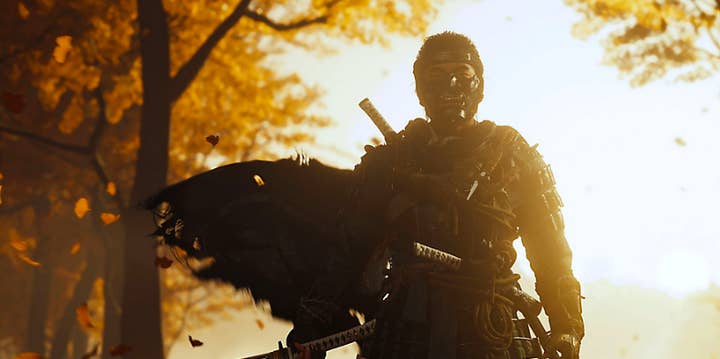 PS4 exclusive Ghost of Tsushima retains its No.1 spot in the UK physical charts, despite a 68% drop in sales week-on-week.
It's a pretty standard drop in sales for the second week of a AAA game. The game's performance remains largely in-line with Days Gone, which was Sony's big new IP of 2019.
The other big game of last week was Paper Mario: The Origami King for Nintendo Switch, which suffered a similar week-on-week drop of 64%. The game falls from No.2 to No.4 as a result. This second week drop means that it is now the second fast-selling Paper Mario game behind 2007's Super Paper Mario on Nintendo Wii (last week it was the tracking ahead of all previous Paper Mario games). Note: digital data is not included in this chart, and The Origami King is available via the Nintendo eShop download store, whereas Super Paper Mario was only available physically, so true sales comparisons are not currently possible.
Replacing Paper Mario at No.2 is another Nintendo game, Animal Crossing: New Horizons, which climbs to No.2 despite an 8% dip in sales week-on-week.
There are no new games in the UK physical retail charts this week. In fact, the boxed games market is going to prove very quiet over the coming six weeks ahead of some big games due out in September. In fact, the most notable releases coming up are the LEGO Mario sets due out this week, although those will not feature in our market data reports.
Here is the GfK Top Ten for the week ending July 25th
| Last Week | This Week | Title |
| --- | --- | --- |
| 1 | 1 | Ghost of Tsushima |
| 4y | 2 | Animal Crossing: New Horizons |
| 3 | 3 | F1 2020 |
| 2 | 4 | Paper Mario: The Origami King |
| 6 | 5 | Mario Kart 8: Deluxe |
| 5 | 6 | The Last of Us Part 2 |
| 8 | 7 | Minecraft (Switch) |
| 7 | 8 | Grand Theft Auto 5 |
| 12 | 9 | Forza Horizon 4 |
| 20 | 10 | Ring Fit Adventure |