Germany market report: 2021 was a record year as spending nears €10bn
Industry grows to 28,650 employees, with number of games companies up to 786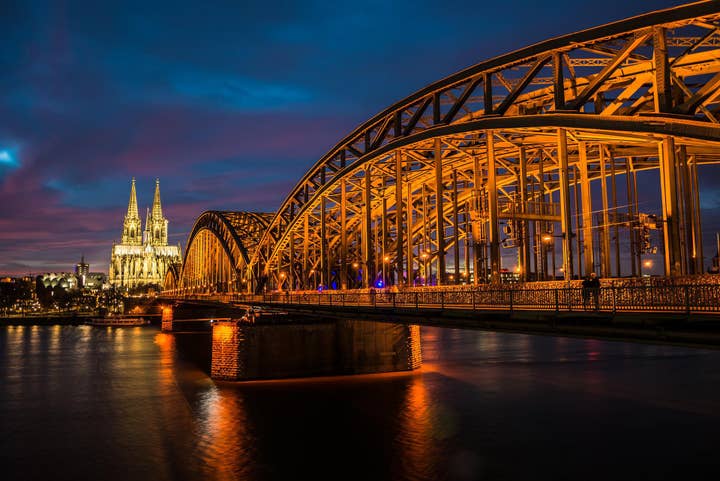 German gamers spent more on video games, hardware and accessories in 2021 than in any previous year, with total spending reaching €9.8 billion.
This figure was revealed by the 2022 annual report from Game, the trade body for Germany's games industry, which showed revenues for games products rose 17% over the already-breaking levels seen in 2020.
As such, Germany remains the largest video games market in Europe and the fifth largest in the world.
The German games market
Revenues
Software: €5.4 billion, up 19% year-on-year
Hardware: €3.6 billion, up 18%
Online and subscription services: €719 million, up 4%
Software revenues – encompassing full-game sales, in-game purchases and subscriptions, and add-on content – naturally remains the biggest driver of spending, with most Germans purchasing their titles digitally. In fact, six out of ten games sold in Germany are downloads.
Key growth areas included in-game and in-app purchases, up 30% year-on-year. Most of this comes from mobile, which generated €2.76 billion (compared to the €1.5 billion spent on in-game purchases from PC and console titles).
Back in 2016, total software revenues reached around €2 billion – a third of what they were in 2021
Mobile in general grew 22%, with revenues reaching €2.78 billion, as did PC accessories. Greater growth was seen in hardware revenues, up 23% year-on-year – although Game believes this would have been significantly higher without delivery bottlenecks and supply issues, including for the newest consoles.
Online and subscription services grew less than 5% but it's worth noting where that growth came from. While the traditional online subscriptions such as Xbox Live Gold and Nintendo Switch Online actually saw a slight dip in revenues – down from €439 million in 2020 to €437 million – library-style services performed much better.
This category of subscription services, including Xbox Game Pass, Apple Arcade and Google Play Pass, saw revenues rise by more than 21%, up from €181 million to €220 million.
A graph at the end of the report shows how much Germany's games software market has grown since 1995, particularly in the last six years. Back in 2016, total revenues amounted to around €2 billion – a third of what they were in 2021.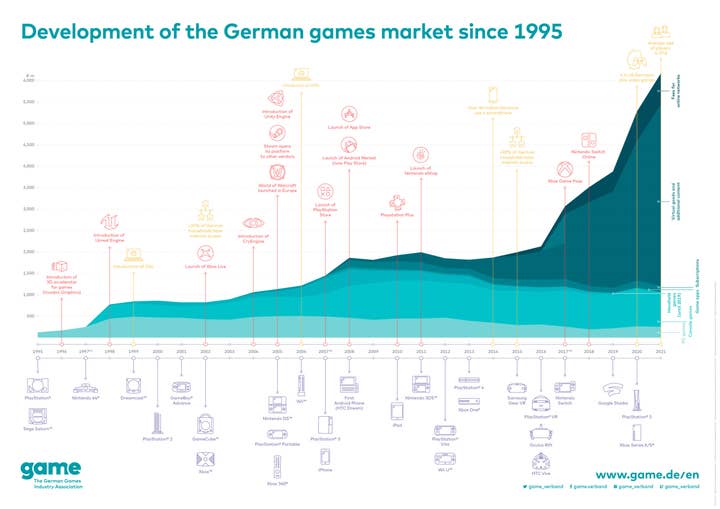 Game also released updated statistics on the gaming demographics in Germany in 2022. 59% of the population between the ages of six and 69 play video games – that's 6% more than 2019 and a new record for Germany.
The trade body reported that 48% of these players were women while 52% were men, and the average age was 37.6 (up from 37.4 in 2020). Interestingly, 50 to 59-year-olds were one of the largest groups, accounting for one in five German gamers.
Most popular platforms
Smartphone: 23.5 million (up 4%)
Console: 17.8 million (up 4.7%)
PC: 14.3 million (down 5.9%)
Tablet: 10.7 million (up 8%)

Best-selling games of 2021
FIFA 22 (Electronic Arts)
Grand Theft Auto 5 (Rockstar Games)
Mario Kart 8 Deluxe (Nintendo)
Farming Simulator 22 (Giants Software)
Minecraft (Mojang/Microsoft)
Super Mario 3D World + Bower's Fury (Nintendo)
FIFA 21 (Electronic Arts)
Mario Party Superstars (Nintendo)
Ring Fit Adventure (Nintendo)
Call of Duty: Black Ops - Cold War (Activision Blizzard)
The German games industry
Total number of companies: 786 companies, up 5% (up 26% over two years)
Total number of employees: 28,650, up 5%
There are 786 companies either developing or publishing video games in Germany in 2022. Most – 392, in fact – do both, while 358 only develop and 36 only publish. The number of publishers and companies that both develop and publish grew by around 14%, while the number of dedicated development studios dipped by 3%.
Most companies remain small in size, with 70% of German companies employing fewer than ten people.
It was also reported that 47% of games produced in Germany are exported, compared to 7% film and TV, 9% books and 10% music.
While the total number of games firms is only moderately higher, 5% up on 2020, Game reports this figure has risen 26% over the past two years.
Meanwhile the total number of employees puts the German industry back around 2020's level, where there were 28,235 staff. This figure dropped 4% in 2021, likely due to redundancies and other effects of the pandemic, but at 28,650 in 2022 it looks like the market has recovered.
"We have made enormous progress in the past few years in making Germany a top location for the games industry"

Felix Falk, Game
11,242 of these employees make up what Game refers to as the 'core industry', i.e. development and publishing companies. This is up 3% over 2021 and 12% compared to 2020.
Meanwhile, the extended market – which factors in service providers, retailers, educational establishments, media, and so on – is up 6% year-on-year to 17,048 people.
Game drew attention to some of the diversity aspects in the industry with 25% of all employees being women, which the trade body reports is much higher than in other sectors of the digital economy.
Finally, 27% have no German citizenship, compared 17% across other cultural/creative industries.
In his opening comments, Game managing director Felix Falk said: "With federal games funding, the government games department, the games strategy and numerous improvements at the state level, we have made enormous progress in the past few years in making Germany a top location for the games industry.
"But Germany still lags behind other games locations – countries like France, Canada and England already began providing strategic support to their games industries many years ago. If we want to tap the full cultural, economic and technological potential of the games industry in Germany, we still have a lot of work ahead of us.
"The German games industry expects good things to come of this new federal government, as our game industry barometer also indicates. Consequently, the country is in a strong position for further positive growth."