GDC's financial impact on San Francisco: $46 million
San Francisco Travel Association weighs in on the importance of the Game Developers Conference to the city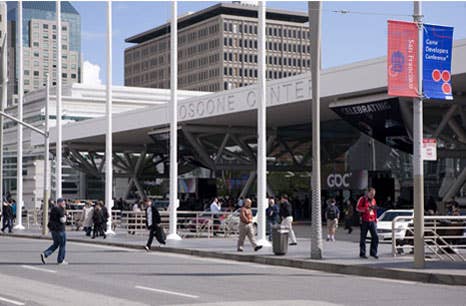 Thanks to Silicon Valley, there's no shortage of tech companies hosting meetings or conferences in the Bay Area, but when it comes specifically to the business of games, there are few conferences in San Francisco that can rival the annual Game Developers Conference. For most in the industry (or those looking to enter the industry) it's one of the few must attend events each year. And you can bet the city of San Francisco is happy to host GDC, as the financial benefit to local businesses is substantial.
"GDC is the highlight of March for the San Francisco hospitality community - everyone knows when GDC is here judging from the packed bars, restaurants, and streets. I love that turning any given corner in or near the convention center, one will hear an international language spoken. Their current financial impact is estimated at over $46 million," Leonie Patrick, senior director for Moscone Expansion Sales at the San Francisco Travel Association told GamesIndustry International.
"Although San Francisco is fortunate to have several large conventions, the demographic of GDC is unique and high energy. GDC is a valued, annual group and we do our best to assist with their success every year. When they thrive, we thrive," she continued.
"They have demonstrated tremendous growth. They started off with 10,000 people crammed into Moscone West, and they have more than doubled their attendance in 8 years"
While GDC used to take place in San Jose, the conference quite simply outgrew the city, and San Francisco became its new home, offering more convention space and hotel accommodations. The conference has been consistently growing along with the industry itself, and it's definitely been a boon to San Francisco.
"GDC has been with us since 2005, with the exception of 2006. They have demonstrated tremendous growth. They started off with 10,000 people crammed into Moscone West, and they have more than doubled their attendance in 8 years," Patrick said. "GDC has also had extreme room growth, starting at 1,900 on peak to almost quadrupling that number."
While some locals have resented the impact that highly-paid tech sector employees have had on San Francisco's cost of living, San Francisco Travel Association isn't concerned that GDC will be affected by any of this sentiment. "We have no concerns about how the GDC attendees will be received by San Francisco. San Franciscans know that tourism is our number one industry and conventions are a different issue from residency issues. We welcome GDC happily each year," Patrick added.
Indeed, tourism is a wonderful thing for the great city of San Francisco. From the sights and sounds to the places to eat, there's plenty to enjoy for GDC attendees who might want to nip out of Moscone for some downtime as well.
"Many attendees have been here repeated times so they want more than the typical icons. They may want to explore the more offbeat neighborhoods like the Castro, Union & Fillmore Streets, eat a great meal in the Mission, or walk around Noe Valley. For the first and second timers, they should see the Golden Gate Bridge, Coit Tower, ride a cable car, go down Lombard Street, sit in a café in North Beach, walk along the Wharf, visit the Ferry Building, or window shop in the Haight," Patrick recommended. "And I can't forget about Golden Gate Park, or maybe see the Pacific Ocean if they have not before. And if they really have time visit one of the many neighboring cities. Sausalito, Tiburon, Monterey/Carmel, Lake Tahoe... the list goes on."
And even if you don't have a car, it's thankfully not too difficult to get around San Francisco (unlike Los Angeles, for example).
"Luckily, San Francisco is a large city contained in a small footprint. It is an extremely easy city for walking. Despite its reputation for having many hills, which it does, take a walk along the waterfront in order to get you from the convention center to the Wharf - you will avoid them all," Patrick noted. "We also have great public transportation that can take you to outlying areas of San Francisco as well as outlying cities very economically."
While it's a bit late now, her advice for future GDC attendees should definitely be heeded: "Use the hotels that the event staff at GDC recommends since they are all vetted and reviewed by the GDC staff. And try not to book your hotel too late since rates are likely to get higher closer to the event date."