GDC 2016: Unity Conference highlights
Stable release of 5.3.4 and a 5.4 public beta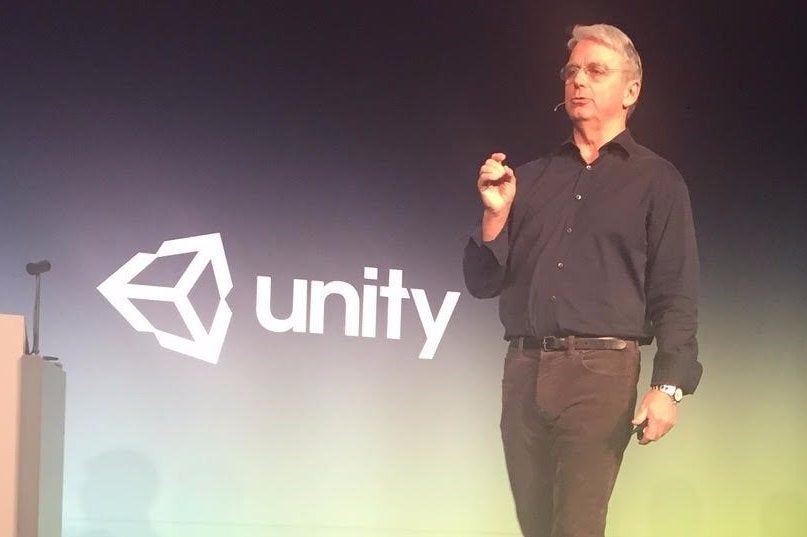 Unity has just wrapped up a GDC 2016 press conference packed with iterative updates to the popular engine, headlined by the launch of a fully stable release of 5.3.4 and a 5.4 public beta.
CEO Riccitiello opened the presentations, leading with the impressive fact that Unity now has more than 1.1 million unique monthly users: more people than the total number of employees working for publicly owned games companies worldwide. Reiterating the core principles of the company mission statement: democratisation of development, solving hard problems and enabling success, Riccitiello outlined many of the engine's achievements in the last year, including increased graphical performance, IL2CPP performance improvements, cloud build, better debugging tools, and AR/VR plugin optimisation.
"Heavy focus this year is on the core engine and stability"

John Riccitiello
Lucas Meijer then took the stage to highlight the triumphs of the Unity Multiplayer tools, launched last year at Unite in Boston. Since that event, in September 2015, 5400 projects have launched in Unity Multiplayer. The project comes out of beta today and is now open to hosting live games. He then demoed a series of cinematic image effects with a live, realtime rendered video showing the awakening of an android, using a mixture of baked in and additional plugged in effects.
CTO Joachim Ante then demonstrated a series of global illumination capabilities and a new static light mapper which speeds up the adjustment of static lighting sources massively, potentially from hours to pretty much realtime, with gradual reiterative progress. The new lighting tech is a collaboration with Imagination technologies and will be introduced to the 5.4 beta.
Next up was CMO Clive Downey, who rattled off some seriously impressive figures.
Since the last GDC there have been 12.2 billion downloads of Unity mobile games, working out to 23,211 a minute, or 386 a second. The biggest month ever was in February, with1.4 billion downloads, 578 a second. Unity mobile games were 25 per cent of the top 1000 grossing mobile games in Q1, 2015, growing to 30 per cent in Q4.
60,000 apps have enabled analytics, with 2000 added per week. 600 million events are captured every day. 1.5 billion unique devices were 'seen' by the analytics platform in Q1 alone.
Unity ads are now used by 126,000 publishers, up from 20,000 since last GDC. 6500 advertisers are using the service, a growth of 380 per cent in a year. The company has paid out more to ads users in 2015 than the company made in licence revenues.
The asset store, which "remains an investment focus for us," has seen 1 million free asset downloads a month, with an affiliate program launching soon, pre-registration for which is open now.
The Made with Unity storefront has seen 1m pages viewed per month, and Unity is adding branding to all products there which highlights the creators with photos of the people behind the products.
"the world is a better place with more creatives"

Megan Stewart
Head of Global Education Megan Stewart then took the stage to discuss a brand new Unity certification program, which will enable students and other developers to take an exam which will give them an official qualification, enabling industry employers to set a gold standard. Resources and other support materials are launching alongside the program. Stewart, who says "the world is a better place with more creatives," warned that the certificate exam is "hard, definitely not an easy, beginner level."
Following Stewart was Suhail Dutta, VP of Services, who spoke about the launch of Unity Collaborate, a new way to control multi-developer projects by enabling the easy addition of new users to project files, cloud saves and quick project adaptation. A beta program is now live at unity3d.com/collaborate.
John Cheng also spoke on Analytics, which is now the number one analytics solution for the engine. He announced the launch of one-click integration with no SDK - meaning a virtually impactless effect on performance, even in VR. IAP are also easier to create and launch, with three times as many platforms supported as previously.
Timoni West was brave enough to don a Rift headset on stage to demonstrate the new VR creation tools, including the Chessboard system which puts a miniature version of the current scene on a palette in the developer's hand, enabling instant manipulation of the environment at a manageable scale.
Finally, David Helgasson made a surprise appearance, thanking developers, customers and players worldwide for the massive growth the firm has seen since launch. Disappointingly, his collar was only partially popped.