Gaming video to generate $4.6 billion this year - SuperData
Research firm says there are now 665 million viewers of gaming video content worldwide
Thanks to the rise of eSports, live gameplay broadcasts and online influencers commenting on the newest releases, more and more gaming video content is being watched every day. According to the newest research from SuperData, the global audience for gaming video content (GVC) will reach 665 million this year, and it's expected to see a 21% increase in viewership from 2017 to 2021. Moreover, SuperData is forecasting GVC to generate $4.6 billion in revenue in 2017 (advertising and direct spending combined), which the firm says is "a level that would outpace revenue generated by sports such as the top soccer leagues in Spain and Germany, which earned $3.2 billion and $3.5 billion respectively in the 2015-2016 season."
From a demographic standpoint, SuperData found that people actively engaged in watching GVC are more likely to be so-called cord-cutters who no longer subscribe to any cable or satellite TV (20% vs. just 8% for the general US population). Additionally, the fact that women make up 46% of the GVC audience and viewers have a higher average income than traditional gamers is a sign that GVC has "gone mainstream," says SuperData.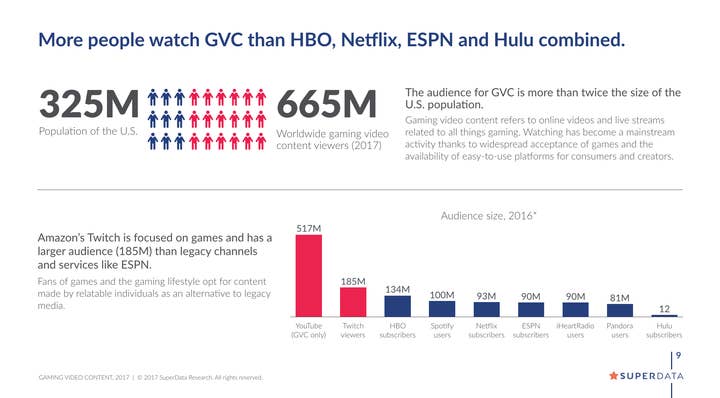 The connection to cord-cutters is an important one, as SuperData notes that live game streams are having an impact on primetime TV viewing, with 27% of live stream viewers watching most often during weekday evenings. In fact, the audience for GVC on YouTube and Twitch - 517 million and 185 million people in 2016 respectively - actually exceeds the audiences for mainstream channels like ESPN and HBO.
In terms of spending habits on GVC, while much of the revenue does come from sponsorships ($3.2 billion), the other 31% does come from direct payments to streamers. SuperData notes that almost 50% of all GVC viewers pay for a subscription or make donations to their favorite streamers. "GVC viewers are highly loyal to the streamers they follow and pay to have access to ad-free streams or to earn on-air shout outs," the company points out.
As you'd expect, many active GVC viewers are hardcore gamers themselves who spend more than $70 a month on digital games and in-game content, which represents 56% more than their non-viewer counterparts. And GVC, naturally, can have a great advertising effect for some games - 51% of viewers have purchased a game directly after seeing it during a stream (which is why it makes sense for Twitch to sell directly from a stream).
"Gaming Video Content represents a highly desirable market to advertisers due to the fact that its audience is young, tech-savvy and willing to spend money," says Carter Rogers, Research Manager at SuperData Research. "Companies who do not advertise to GVC viewers risk missing potential customers as they turn to streams over legacy media. With a global audience that reaches more viewers than HBO, Netflix, ESPN and Hulu combined, brands could be losing out on the next primetime viewing activity, not unlike TV or sports viewing at their peaks."
You can find more information on the report here.