GameStop posts $673m full-year loss
Specialty retailer acknowledges "the challenges facing our pre-owned video game business" and a need to change its business model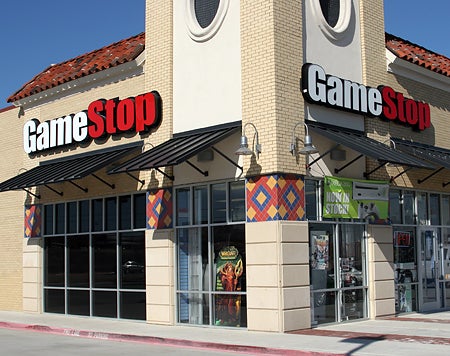 GameStop put an exclamation point on a difficult 2018 today, announcing full-year financial results featuring the biggest loss in company history.
For the 52 weeks ended February 2, GameStop reported net sales down 3% to $8.29 billion, while the previous year's net profit of $34.7 million had turned into a record $673 million net loss. GameStop noted that its fiscal 2017 results encompassed a 53-week period, so the numbers may not look as favorable in light of that extra week of sales. However, the fiscal 2018 numbers also include the company's $700 million sale of its Spring Mobile chain of AT&T phone retailers.
After the sale of Spring Mobile, GameStop said it was dropping part of its push to diversify its business and focus instead on gaming and collectibles. And while the company's collectibles did grow during the last year (up 11% to $707.5 million), its core gaming businesses declined. New hardware sales were down just over 1% to $1.77 billion, new software was down 5% to $2.45 billion, and pre-owned and value products dropped more than 13% to $1.87 billion. That continued a years-long slide in the company's pre-owned revenues, which last showed year-over-year gains in fiscal 2014.
"We are pleased to have delivered fiscal 2018 results within our adjusted guidance range, which included fourth quarter and full year sales growth across video game accessories, collectibles and digital," GameStop COO and CFO Rob Lloyd said. "Excluding the impact of the 53rd week in fiscal 2017, new hardware sales for the year were in line with last year. As we think about 2019 and beyond, we recognize the challenges facing our pre-owned video game business and are prepared to address them as we continue to evolve our business model going forward."
The net loss is unusual not just in its severity, but that it occurred at all. Since GameStop adopted the name in 2000 (it was previously Funco Land), it has only posted two full-year losses. In 2012, it reported a net loss of $269.7 million. It also posted a net loss of $7 million in the year 2000, back when its entire revenues for the year totalled $327 million, less than half of what it lost over fiscal 2018.
GameStop also announced a "cost savings and profit improvement initiative" that will consist of "supply chain efficiencies, operational improvements, expense savings and pricing and promotion optimization." The company expects it will have a minimal impact on fiscal 2019, but hopes it eventually results in $100 million boost to operating profits on an annual basis.
For fiscal 2019, GameStop is expecting total sales to be down 5-10%.