GameStop: Is history on their side?
How will the retail giant find profits in a shrinking market? We analyze their earnings call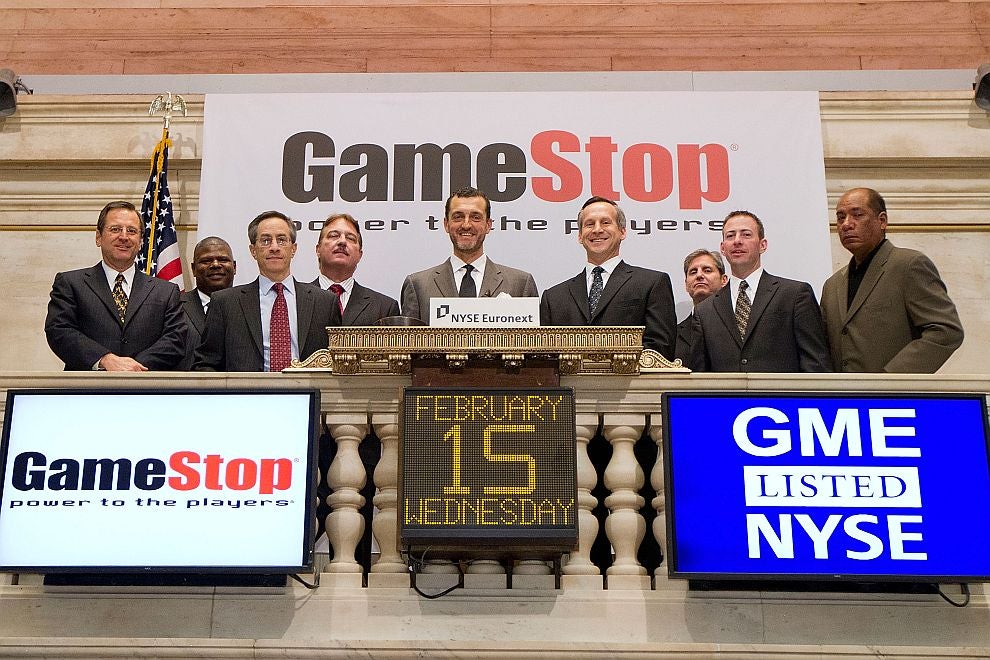 GameStop's earnings call was an interesting look at the overall state of the video game industry, as well as a glimpse of the future of retail. Reality is harsh for GameStop; their revenue dropped for the second quarter by over 11% compared to the same quarter last year, with profits dropping by nearly a third, down to $21 million versus $30.9 million last year. CEO J. Paul Raines put the best spin on it he could, noting that "the physical console category continued to experience double-digit declines, and GameStop continued to gain share as we approach the console transitions." In other words, the retreating tide is lowering all boats, but ours isn't dropping as fast. True, but not overly reassuring.
Michael Pachter, analyst at Wedbush Securities, noted in his comments about the earnings that GameStop's guidance for Q3 "is below our prior expectations. GameStop was quite conservative in its Q3 outlook, reflecting traffic declines." On the other hand, Pachter noted that GameStop was looking forward to a very strong Q4: "We think that low Q3 comp guidance suggests a heavy dependence on growth in Q4 in order to hit FY guidance. Implied Q4 EPS guidance represents 18-34% growth above its most profitable quarter ever." That would be quite a feat given the overall problems of the console market, but what it shows is that GameStop is not relying on sales of console hardware to generate its earnings.
Higher margin items like digital goods are a growing part of GameStop's plan, and obviously they intend to push those hard. Raines made that clear: "We are pleased with our digital, mobile and new merchandising assortment such as headsets and sound accessories. It is clear that our investments over the last few years are paying off within our Other category, growing 40.6% in the second quarter. In the digital and mobile space, we have built businesses that did not exist just 2 years ago, and today, represent 10% of sales."
"In the digital and mobile space, we have built businesses that did not exist just 2 years ago, and today, represent 10% of sales"

J. Paul Raines
GameStop is also looking to the Wii U launch to boost Q4 sales, even without Nintendo's official announcement of the pricing or the exact release date. GaneStop not only makes money from the sale of the Wii U consoles and software, it makes money on the sales of all the hardware and software that people turn in to lower the price of the Wii U. "We expect the Wii U launch to have a positive impact on pre-owned traffic at holiday," Raines said. The pre-owned business at one point looked like an increasingly competitive arena, with chains like Target, WalMart and Best Buy getting into the pre-owned business. Those efforts haven't seemed to have much effect on GameStop's pre-owned business, and the chain has now expanded their efforts to include smartphones and tablets. The decline in new console sales and new software sales has hurt the pre-owned business too, according to Raines. "The pre-owned business also felt the decline in traffic related to new software during the quarter," said Raines.
There were some bright spots, though, Raines noted. "Sales of pre-owned current-gen software were flat versus a 16% decrease in new current-gen software. Sales of pre-owned current-gen hardware grew 24% versus the new hardware category that declined over 25%. This indicates to us that most of the weakness in pre-owned for the quarter was concentrated in older platforms. Overall, the pre-owned category significantly outpaced growth of the industry by approximately 20 points."
Looking further out, GameStop is clearly hoping that history repeats itself, and that the advent of new consoles brings game sales back to previus levels. Raines again: "As the next generation of consoles enters the market in late 2012 and 2013 and '14, we will see top line growth accelerate and earnings growth." This sounds more like wishful thinking than an actual plan. Raines put it this way: "Also, while the market is constantly changing, history is on our side. In 3 prior console cycles, over the last 15 years, GameStop and its predecessor companies have seen sales acceleration and cash flow growth." While we will certainly see a new console from Nintendo, and at some point new hardware from Microsoft and Sony seems inevitable, it's not at all clear how successful any of them will be. Or if software sales through retailers such as GameStop will match previous attach rates; perhaps more titles will be sold directly through digital distribution, bypassing GameStop altogether.
Interestingly, Raines and CFO Robert Lloyd spent a good amount of time talking about GameStop's commitments to investors, particularly their increase in dividends and their stock buyback program, which combined will return $2 billion to shareholders over the next four years. That's a traditional way for companies to keep their stock prices up when their sales aren't doing all that well; EA has also been buying back stock, for instance. With the overall market for retail video games down significantly this year, GameStop is signaling its intent to keep their share value up even if (as many expect) the video game industry records another down year.
"This stock is definitely not for the faint of heart"

Seeking Alpha
GameStop has to manage the various transitions under way in the game industry, which includes not only console hardware and software but the increasing footprint of smartphones and tablets, digital distribution, and free-to-play games. The company has efforts in all of those areas, and in fact announced that it will begin streaming games next year through its Spawn Labs subsidiary. Right now the revenues from these areas are small, but the higher margins and rapid growth looks promising. Ultimately, the issue is whether GameStop can grow those areas faster than the continuing decline in traditional console hardware and software.
Meanwhile, buyout rumors have swirled about the company in recent months, as Seeking Alpha and others have reported. The company's stock is trading at around $17 a share, and a buyout offer could be $25 or more, according to Seeking Alpha. Being named the 10th worst place to work in America hasn't helped their image any, but combined with the poor expectations for industry sales it may have corporate takeover types taking a closer look. GameStop is still managing to make a profit even while the industry is in decline, and their 6600 storefronts are a very attractive retail footprint if you believe that customers will still find reasons to go out to a store. There are no obvious candidates in the wings, though, and the rumors seem to be just speculation. GameStop seems to be moving ahead with their various strategies for diversifying with no intent to sell out; they seem to be strong believers in their future. Investors may or may not feel the same way. Seeking Alpha puts it this way: "Time will tell, this stock is definitely not for the faint of heart or for those looking for a 'quick buck.'"
The coming holiday season, already beginning to take shape, will tell us how clearly GameStop's vision of the future is coming true. In many ways GameStop ia a barometer for the industry, reflecting the overall fortunes of the game business. At least for this holiday, consoles and console software sold in retail stores are still the majority of the revenue for all the big publishers. Will that still be true in a year or two years? And when it's no longer true, will GameStop still be profitable?