GamesIndustry.biz renews partnership with Ukie for careers content
Ukie Careers Bar & GamesIndustry.biz Career Fair return to EGX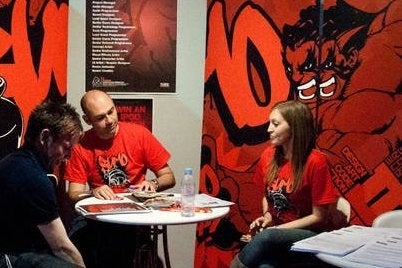 GamesIndustry.biz has reaffirmed its partnership with UK trade body Ukie in order to provide career guidance and employment opportunities to the next generation of the country's industry professionals.
As a major part of the partnership, both the Ukie Careers Bar and the GamesIndustry.biz Career Fair will return to the Gamer Network EGX event in Birmingham between September 24-27 2015, offering the best possible advice to students, graduates and freelancers looking to secure the next step in their industry careers.
The career fair features invaluable speaker sessions from key industry players, professional and educational workshops, exhibition spaces and networking opportunities. It's a major destination for the nation's educators, with EGX hosting increasingly large groups of school, college and university-level students. Last year these organised trips - which are heavily discounted - resulted in upwards of 5000 student attendees, with greater numbers expected again this year.
Ukie's Career Bar will be hosted by some of the country's most successful and talented industry figures, giving invaluable insight into the best way to pursue careers in all sectors of the games industry. As well as giving formal presentations, these games ambassadors will be on hand to chat casually with attendees and be provide one-to-one job application advice, so visitors are encouraged to bring their CVs and work portfolios.
"The Ukie Careers Bar is a fantastic place for the next generation of the UK's games industry to hear pop-up talks from professionals already enjoying a fulfilling career in the industry," said Ukie CEO Jo Twist. "We're giving people a unique opportunity to sit down one-to-one with games industry experts, from all disciplines, who can provide a wealth of experience about the best ways to get your first job in the sector, but also how to build a successful career in all areas of what is the most creative and innovative sector in the world. We're delighted to work with EGX to be able to share our network's expertise with anyone who is interested in pursuing a future within our sector - and even for those who hadn't previously realised they could get a job in games."
Organised groups of students are welcome apply for a 30 per cent discount on tickets to EGX. Accompanying teachers and tutors attend for free.