GamesIndustry.biz Investment Summit returns to EGX on October 17th
London Venture Partners, Jagex, Team17, Xsolla, Frontier and Green Man Gaming already signed up for London event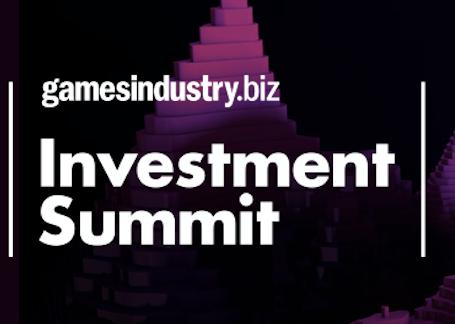 The GamesIndustry.biz Investment Summit will return to London during EGX.
The event, which connects games developers with publishers, platform holders and investors, will take place at London ExCel on Thursday, October 17th.
Tickets are on sale now. Each ticket includes lunch and access to the EGX show floor for the full weekend. The Early Bird price is £89 -- available until July 31st (when it rises to £99).
We can already confirm that Jagex, London Venture Partners, Frontier and Green Man Gaming will be meeting with developers in 1-2-1 meetings, with many more to be announced.
Meanwhile, Team17 will also be at the show, with CEO Debbie Bestwick our first confirmed speaker - she will be taking part in an on-stage interview.
Xsolla is our headline sponsor for the UK Investment Summit, and will be discussing more about how its services can help drive more revenue for developers. Jagex, which has moved into publishing 'living' games, has also signed on as an event partner.
"Xsolla is thrilled to support the Investment Summit series," says Dmitri Bourkovski, Chief Investment Officer. "As Xsolla Funding Club's mission is to create the most robust video game matchmaking experience, we're always looking to educate developers about funding and expand our investors network. It's a great event to meet all kinds of new partners."
Jagex Partners and Partnerships VP Jeff Pabst adds:"Jagex Partners is proud to support this year's GI Investment Summit and once again looking forward to engaging with studios seeking to discuss our live game publishing initiative and offering."
"Last year's Summit was a very well-attended with informative sessions and also delivered a great opportunity for us to both reconnect and introduce ourselves to potential partners."
The GamesIndustry.biz Investment Summit has been running in the UK for ten years. Over 250 indie creators attended last year and more than 25 investors and publishers. We launched the event in the US earlier this year, and our next Summit is actually taking place in Seattle this August. More details about that are through here.
In the morning, there are a series of talks on various funding and financial topics, followed by a networking lunch and then an afternoon of 1-2-1 meetings between developers and publishers/investors. Meetings must be requested in advance of the event, and are at the discretion of the publishers and investors.
For speaker information, or for publishers/investors seeking to book a table, contact Jamie.Sefton@gamesindustry.biz.
For sponsorship enquiries, contact Charlotte.Nangle@gamesindustry.biz.
Indie developer exhibitors at EGX are eligible for a free ticket. Contact chris.dring@gamesindustry.biz to request your pass.