GamesAnalytics secures $1.3m series A equity funding
Predictive analytics specialists planning global expansion with $3m target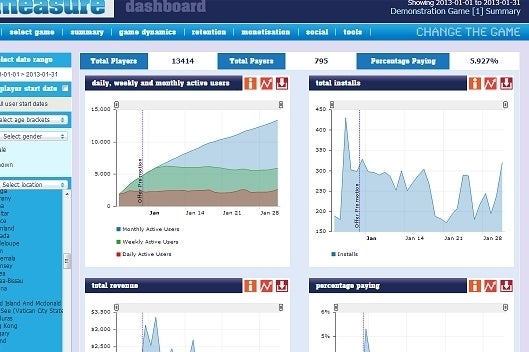 GamesAnalytics, which specialises in predictive analytics tools which enable developers to fine tune variables to individual gamers on the fly, has announced a $1.3 million series A funding as part of a planned $3 million investment round.
Having already secured $612,000 from Scottish Enterprise, the $1.3 boost comes from Par Equity and STV Group plc. The cash will primarily be used to expand marketing, sales and support systems in Europe and the US whilst also developing and bringing to market Predict, GamesAnalytics' metrics and analytics prediction toolset.
"The company has made significant progress over the last couple of years developing its technology and analytics services as well as establishing an impressive cross-platform client base, following its initial modest angel investment," said GamesAnalytics chairman Tim Christian.
"This new investment will enable us to accelerate platform development and deployment across all gaming sectors and the company is committed to developing best-of-breed analytics tools which enable publishers and developers to deliver intelligent Player Relationship Management strategies.
"We are delighted to have received this latest tranche of funding and to be working with Par Equity, STV Group and the SIB. It is testament to the growing importance of analytics in today's games industry."
Based in Edinburgh, GamesAnalytics also produces whitepapers, engagement and retention boosting services.