GAME issues statement as The Times reports it as 'for sale'
Future for group remains "uncertain" admits board as administration looms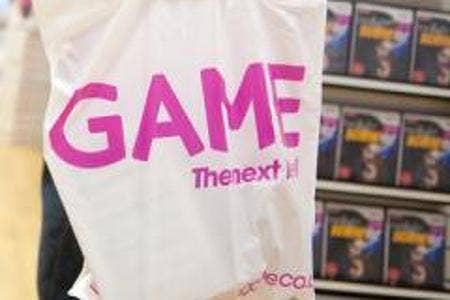 The embattled GAME Group has issued a public statement which explains its ongoing negotiations with publishers and creditors, but which is unlikely to reassure any staff or investors.
The statement is at least a partial response to a report from the Times, which claims that financial services group Rothschild has been engaged by the company to find a buyer for its holdings. That report, in common with other rumours and suggestions, gives GAME a fortnight to put its affairs in order with its landlords before action is forced upon it.
Although the Group is still at the bargaining table with distributors and banks, its failure to secure key products from, and credit arrangements with, big publishers like EA, have severely dented the chances of the company surviving in its current form. Currently publishers seem to be extremely wary of stock being seized by a third party in the event of a rapid liquidisation of GAME's assets.
The statement from the board reiterates previous reassurances that negotiation is ongoing, but fails to provide a great deal for those involved to find solace in.
"Further to GAME's announcement of 29th February 2012 and recent press speculation, the Group confirms that it remains in discussions with its suppliers and lenders in relation to terms of trade that allow the business to operate within the facility provided by its banking syndicate, as announced on 3 February 2012, and to meet its revised strategic plan," reads the statement.
"While these discussions are ongoing, it has not been possible to source new products from a number of suppliers.
"The Board of GAME is working actively to resolve these issues as quickly as possible. This includes ongoing discussions with suppliers, seeking access to the original facility or alternative sources of funding, and reviewing the position of all of its assets in the UK and international territories."
Despite the company's continued efforts, the final paragraph of the release perhaps hints at the increasingly desperate nature of the board's position.
"It is uncertain whether any of the solutions currently being explored by the Board will be successful or will result in any value being attributed to the shares of the Company."
Both continuing rumours and the bleak nature of the statement have clearly affected share prices this morning, which plummeted to an all-time low of 0.5p per share before climbing again to 1p at the time of writing. One year ago they stood at 61.5p per share.
It has been speculated that GameStop could be the best hope to save jobs and inventory at the chain, but the company's poorly performing foreign businesses, spread across much of Europe, are thought to be souring any potential deal.
Last week, it was reported that staff had been warned to prepare for administration, whilst stock was being sold off at incredibly low rates across the chain to raise cash assets.