GAME Australia closing all stores
31 shops to shut, closing down sales have started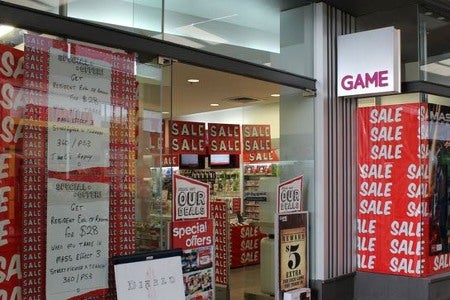 PriceWaterhouseCoopers has confirmed that GAME Australia will shut all its 31 stores over the next few weeks.
"In the interests of creditors, the 31 remaining Game stores are to be closed over the coming weeks and a final closing down sale has commenced with discounts of up to 60 per cent available in-store and online," said administrator Kate Warwick said in a statement to GameSpot.
"This is a difficult time for employees and closing the stores was not a decision we made easily. Despite exploring available opportunities for continued trading, the ongoing trading performance and absence of viable offers for the purchase of the business has resulted in these closures."
16 of the 31 stores have already been closed, with the remaining 15 holding 60 per cent off sales until they too shut their doors. The future of the chain as a whole is still unclear, with a creditor meeting scheduled for today.
Just over a week ago PwC was denying rumours that the stores were to shut.
"I've been informed that the 40 per cent sale is simply an attempt to move stock and get customers into the stores, it's not a closing down sale" said PwC at the time.
GAME Australia went into voluntary administration last month, and soon after closed 60 stores, cutting 264 jobs.