Future Games of London: 50m downloads to date, 40m target for 2013
Milestone for Hungry Shark developer as it heads to PC and Mac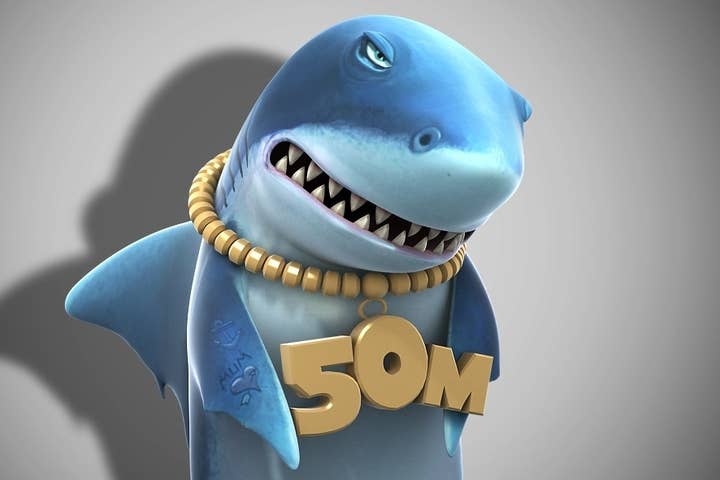 Hungry Shark developer Future Games of London has passed 50 million downloads of its games on iOS, Google Play and the Amazon App Store - and is targeting as many as 40 million more in 2013.
Formed in 2009, the company has created franchises Hungry Shark, Pool Bar, Snooker Club and Grabatron, and plans two new titles this year as it also moves to PC and Mac.
"We're looking to achieve 50 per cent to 100 per cent unit growth in direct-to-consumer downloads on smart phones and tablets, so 30m-40m in 2013," said Ian Harper, managing director, speaking exclusively to GamesIndustry International.
"This will be driven by two new AAA free-to-play games in the second half of the year, and in the first half by our recently launched iOS game Hungry Shark Evolution coming to Android. We're also beginning to take our games to desktop PC through the Mac App Store and Steam, starting with Hungry Shark Evolution in Q1."
While iOS remains a leader, Harper said continued growth from Google and Amazon also points to a booming market for mobile development in the coming year.
"We expect iPhone and iPad to continue to lead the market in design quality and also App revenue. We also expect continuing exceptional growth from Android smart phones.
"In fact, we expect over 500 million Android smart phones to ship worldwide in 2013, which is an extraordinary number to contemplate. Amazon is looking well placed in the tablet market, and of course own a fantastic store and credit card database," he added.
Future Games of London is taking note of mobile success in China, Korean and Japan by operators such as SK Telecom and NTT DoCoMo, with social and language localisation on the cars for new releases.
"There has been extraordinary revenue growth on smart phones this year from Japan and South Korea. According to AppAnnie's last report, Japan just surpassed the US in total revenue, which is incredible given the large population difference," offered Harper.
"This phenomenon seems to have been driven by exceptional free-to-play games in these territories, which so far have not yet translated well to the West. Local social networks KaKaO and LINE also appear to have been key in driving that growth, as have Mobile Networks like SK Telecom and NTT DoCoMo. We think that localisation in both language and social networks is very important for Asian territories and are already working hard on this for our future titles."