Frontier lowers revenue expectations after slow start for Jurassic World Evolution 2
But sequel expected to overtake the original's first-year revenue, boosted by upcoming film Jurassic World Dominion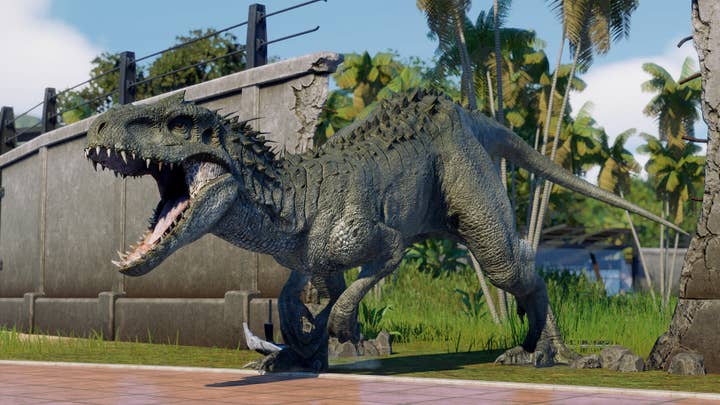 Jurassic World Evolution 2 is off to a slower start than expected, prompting Frontier Developments to lower its revenue forecasts for the current fiscal year.
The company now expects revenues of between £100 million and £130 million for the 12 months ending May 31, 2022. In its annual results released back in September, this forecast was stated as £130 million to £150 million.
A trading update issued to investors gives more context around the game's performance and the company's expectations, revealing that while sales are "lower than expected on PC," console sales are "largely as expected."
Frontier attributes this to a "more crowded release window than expected."
The game debuted on November 9, the same day as Football Manager 2022 and Forza Horizon 5, and two days before the GTA Trilogy: Definitive Edition and Skyrim: Anniversary Edition. By comparison, the original launched in June 2018.
In his comment at the end of the update, Frontier founder and CEO David Braben said the game has sold around 500,000 copies across all platforms.
The company described Jurassic World Evolution 2 as its biggest release and largest revenue contributor for the current financial year. The lower-than-expected sales, combined with the under-performance of Elite Dangerous expansion Odyssey, prompted the lowering of its forecast.
However, Frontier remains optimistic for Evolution 2 overall, describing the struggles on PC as "primarily a phasing issue" and predicting significant sales around Christmas. It adds that excitement remains strong for the PC version, with over 440,000 wishlists on Steam.
The company also expects a boost from the release of Jurassic World Dominion, the next film in the franchise, in June 2022.
"We continue to project Jurassic World Evolution 2 to overtake Jurassic World Evolution in terms of revenue in its first 12 months from release," Frontier told investors.
Another trading update is expected in the New Year.