Forza Horizon 5 crosses the line at No.4 | UK Boxed Charts
Jurassic World: Evolution 2 arrives at No.6 as Call of Duty holds No.1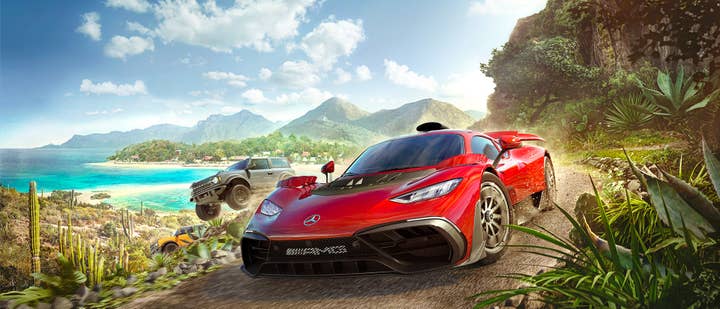 Xbox's critically acclaimed Forza Horizon 5 was the fourth best-selling game at UK games retail last week.
Its launch boxed sales are down 80% over the previous game -- 2018's Forza Horizon 4 -- but with digital and Game Pass, that won't be the case. Xbox has already announced that it is its biggest game launch in history (worldwide), with 4.5 million players. The digital games data will arrive later in the week.
There were quite a few new games this week. At No.5 is Frontier's Jurassic World: Evolution 2, which debuts at No.6. Sales are down 37% over the previous game (which was also released in 2018), but again, we should expect digital to make up most -- if not all -- of that decline.
34% of Jurassic World: Evolution's boxed sales were on PS5, with 33% on PS4 and the exact same number on Xbox. Xbox game sales tend to skew higher digitally, so we'll see a more accurate breakdown when the digital data comes in.
Next on the new game list is Nintendo Switch exclusive Shin Megami Tensei V at No.9. JRPGs are typically a niche genre in the UK, but compared to other recent releases the title fared quite well. Launch boxed sales are 60% higher than February's Bravely Default II (also Switch), 43% higher than June's Monster Hunter Stories 2 (Switch again) and 23% higher than September's Tales of Arise (PlayStation and Xbox platforms).
At No.12 we have Sega's Football Manager 2022. As a PC game, the vast majority of sales will come via Steam. The game's boxed launch is 25% down over last year's entry.
To wrap up the new releases, Nichelodeon All-Star Brawl from Maximum Games debuts at No.23. 56% of sales were on Nintendo Switch, 21% on PS5, 14% on PS4 and 10% on Xbox. Again, this is purely boxed sales.
Although not a new release, Animal Crossing: New Horizons saw a 99% sales spike following the launch of its major new DLC during the previous week, and is currently at No.3.
Last week's big new release, Call of Duty: Vanguard, holds No.1 position despite a 47% drop in sales week-on-week (which is actually a pretty small second week drop for a Call of Duty game). However, the title has performed significantly below last year's Call of Duty title.
FIFA 22 holds No.2 after an 11% sales improvement week-on-week.
Elsewhere, Just Dance 2022 drops to No.15 after a 30% sales dip week-on-week. While Fortnite Minty Legends Pack is down to No.16 after a 46% sales slip.
Other recent releases continue to hang into the Top Ten. Mario Party Superstars is at No.7 after a 35% drop in sales week-on-week, while Guardians of the Galaxy is at No.10 after a 25% sales fall.
Here is the GfK Top Ten for the week ending November 13, 2021:
| Last Week | This Week | Title |
| --- | --- | --- |
| 1 | 1 | Call of Duty: Vanguard |
| 2 | 2 | FIFA 22 |
| 7 | 3 | Animal Crossing: New Horizons |
| New Entry | 4 | Forza Horizon 5 |
| 4 | 5 | Mario Kart 8: Deluxe |
| New Entry | 6 | Jurassic World: Evolution 2 |
| 3 | 7 | Mario Party Superstars |
| 8 | 8 | Minecraft (Switch) |
| New Entry | 9 | Shin Megami Tensei 5 |
| 6 | 10 | Guardians of the Galaxy |