Fortnite streaming hours drop for fourth straight quarter
Biggest battle royale games all show declines but Epic's hit remains most watched title on streaming platforms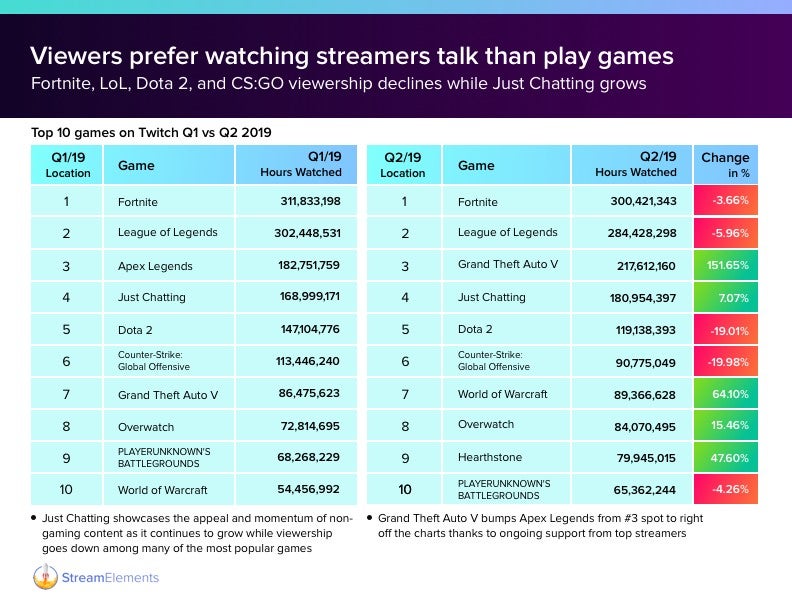 StreamElements' latest quarterly State of the Stream report shows declining streaming viewership across the industry's biggest battle royale games.
The report, released by the streamer production platform in conjunction with Twitch stats/analytics site SullyGnome, showed declines from April through June for hours watched of Fortnite, Apex Legends, and PlayerUnknown's Battlegrounds across streaming platforms Twitch, YouTube Live, Facebook Gaming, and Mixer.
Fortnite's hours watched were down 3.66% to just over 300 million hours watched. It was the fourth consecutive quarter of declines for the game, even though it remains the most watched game on streaming platforms. Fortnite has more than double the hours watched of any game outside the top four, and the gap between it and League of Legends (the next most watched game) actually increased this quarter because Riot's hit saw a larger decline in viewership.
EA's Apex Legends saw the most precipitous drop of any game in the second quarter, going from third place with almost 183 million hours watched in Q1 to out of the top 10 entirely (less than 65.4 million hours watched) in Q2.
The last battle royale game in the top 10, PlayerUnknown's Battlegrounds, also saw declines quarter-over-quarter, dropping 4.3% to 65.4 million hours watched and sliding from ninth place to tenth.
As for games that did well for the quarter, Blizzard saw gains for World of Warcraft (up 64.1%), Overwatch (up 15.5%), and Hearthstone (up 47.6%) that helped push those titles to seventh, eighth, and ninth, respectively. Beyond that, Grand Theft Auto V hours watched soared 151.7% to 217.6 million and third place, with StreamElements attributing the jump to the increasing popularity of GTA V role-playing from streamers like sodapoppin. Finally, Just Chatting casual streams were growing in popularity, up 7.1% to fourth place with 181 million hours watched.
Overall, Twitch accounted for 2.7 billion hours watched, down less than 2% quarter-over-quarter. That makes up 72.2% of all streaming hours tracked by StreamElements, with YouTube Live the next most popular service accounting for 735.5 million hours and 19.5% of the total. On the low end, Facebook Gaming's 197.8 million hours watched (5.3% of total hours watched) was an improvement for the social network, pushing it above Mixer's 112.3 million hours watched (3% of total hours watched).