Former Call of Duty executives reveal ambitious social F2P shooter
U4ia Games from Dusty Welch and Chris Archer launches Offensive Combat to browsers everywhere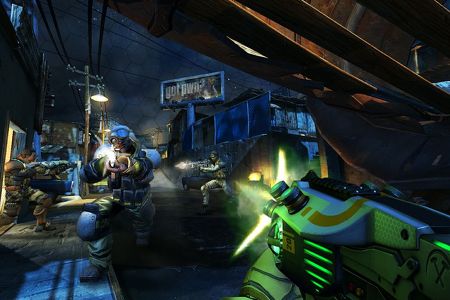 U4ia Games, which previously boasted that it would "dethrone" Call of Duty, has released its highly ambitious free-to-play shooter title for the masses. Offensive Combat, which runs through browsers on PC, is the first game from the studio founded by former Activision executives Dusty Welch and Chris Archer.
"Free-to-play is the next disruptive, permanent shift in gaming," explains U4iA Games CEO and Co-Founder Dusty Welch. "Consumers are moving away from the traditional console retail model and demanding AAA-quality games accessible on all their devices with no upfront costs."
"U4iA plans to satisfy those gamers with unmatched, competitive, core games like Offensive Combat, playable through your browser at a level of quality previously not thought possible, all running on our breakthrough E-Sport level server architecture. Since the game is launched right in their browser, players will be able to fire it up, connect with their friends, and play for free - with no need for additional hardware or software purchases."
"We believe the current crop of FPS games is just more of the same. With Offensive Combat, we are making the blockbuster game you'll have to have, but it's already in your browser, it's free, and your friends are already playing. Just log on and click play," adds U4iA Games CCO and Co-Founder Chris Archer. "We're building Offensive Combat for passionate core shooter fans, delivering the features they want and empowering them to play the way they want. Gamers are clamoring for new ideas and experiences versus the same rehashed gameplay.
"With our unique, focused approach and broad industry experience, we're able to deliver an innovative, free-to-play game that would take other development teams multiple years, hundreds of developers and cost them, in some cases, over $100 million, a cost which they would ultimately pass on to the consumer."
Offensive Combat hopes to be the "most competitive multiplayer action ever seen within a browser," giving gamers new ways to customize their in-game personas. That push has helped U4ia Games secure over $7 million after a successful Series B funding round.
Highly detailed, free-to-play shooters seem to be growing in number. Just yesterday, we brought you the scoop on the free-to-play game Hakwen from Meteor Entertainment.