FIFA Street stays top for EA
Publisher scores top three spots on UK software chart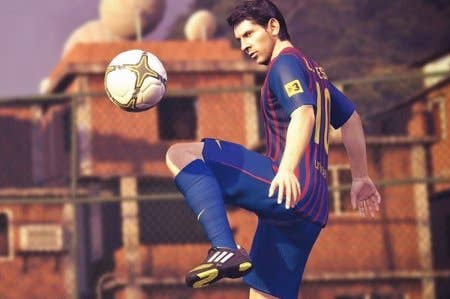 EA has managed to win the top three places on the charts this week, with FIFA Street maintaining its place at number 1, Mass Effect 3 moving back up to number 2 and new entry Tiger Woods PGA Tour 13 entering at number 3.
Another new entry to the top ten was Naruto Shippuden Ninja Storm Generations at 6.
It was a good week for the Silent Hill franchise, with two new entries. Silent Hill HD Collection entered the chart at 12, with the old favourites beating out the new release Silent Hill: Downpour, which went in at 15.
All chart data is courtesy of GfK Chart-Track.
| Last Week | This Week | Title |
| --- | --- | --- |
| 1 | 1 | FIFA Street |
| 3 | 2 | Mass Effect 3 |
| New entry | 3 | Tiger Woods PGA Tour 13 |
| 2 | 4 | Resident Evil: Operation Raccoon City |
| 4 | 5 | FIFA 12 |
| New entry | 6 | Naruto Shippuden Ninja Storm Generations |
| 6 | 7 | Call Of Duty: Modern Warfare 3 |
| 8 | 8 | Battlefield 3 |
| 10 | 9 | Mario & Sonic London 2012 Olympic Games |
| 5 | 10 | SSX |
| 14 | 11 | The Elder Scrolls V: Skyrim |
| New entry | 12 | Silent Hill: HD Collection |
| 16 | 13 | Saints Row: The Third |
| 7 | 14 | Kid Icarus: Uprising |
| New entry | 15 | Silent Hill: Downpour |
| Re-entry | 16 | Forza Motorsport 4 |
| 11 | 17 | Assassin's Creed: Revelations |
| Re-entry | 18 | Gears Of War 3 |
| Re-entry | 19 | Batman: Arkham City |
| 12 | 20 | Final Fantasy XIII-2 |