FIFA Street scores big for EA in UK charts
EA dominates top of the charts, Twisted Metal fails to break top ten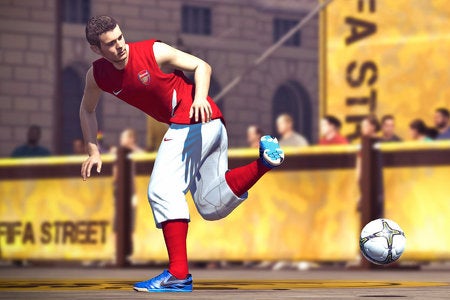 FIFA Street has maintained the EA's dominance of the chart, heading straight to the top of the UK software charts and setting a new record for the Street franchise's first week sales.
Following Mass Effect 3 and SSX, it's the third EA title in a row to debut at number one, and makes the top four of this week's chart a clean sweep for the publisher, despite its decision not to supply stock to troubled retailer GAME.
Other new entries this week made less of an impact, with Twisted Metal, which was on sale in GAME stores, only appearing at 12, Professor Layton And The Spectre's Call entering way down at 30 and Zumba Fitness Rush squeezing in to the top 40 with a new entry at 37.
All chart data is courtesy of GfK Chart-Track.
| Last Week | This Week | Title |
| --- | --- | --- |
| New entry | 1 | FIFA Street |
| 1 | 2 | Mass Effect 3 |
| 2 | 3 | SSX |
| 4 | 4 | FIFA 12 |
| 5 | 5 | Mario Party 9 |
| 7 | 6 | Mario & Sonic London 2012 Olympic Games |
| 20 | 7 | Rage |
| 10 | 8 | Zumba Fitness |
| 9 | 9 | Assassin's Creed: Revelations |
| 8 | 10 | Call Of Duty: Modern Warfare 3 |
| 3 | 11 | Street Fighter X Tekken |
| New entry | 12 | Twisted Metal |
| Re-entry | 13 | Zumba Fitness 2 |
| 13 | 14 | The Elder Scrolls V: Skyrim |
| 14 | 15 | Just Dance 3 |
| Re-entry | 16 | Forza Motorsport 4 |
| Re-entry | 17 | Uncharted 3: Drake's Deception |
| 6 | 18 | The Sims 3: Showtime |
| Re-entry | 19 | F1 2011 |
| 12 | 20 | Battlefield 3 |