FIFA Online 3 leading revenue and traffic in Korea
Free-to-play game at the top of sports charts, EA inks deal with Tencent to take it to China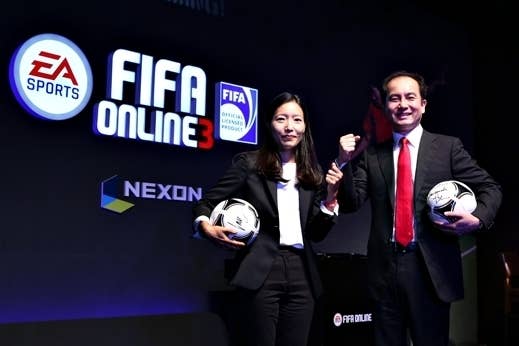 The free-to-play version of EA's FIFA franchise is the number one online sports game on traffic and revenue in Korea.
EA partnered with Nexon to launch FIFA Online 3 in Korea at the end of last year. In an earnings call yesterday, COO Peter Moore confirmed that the game is now the top sports title in terms of revenue and traffic, and the second most popular game in PC cafes.
And EA now has a similar deal with Tencent to take the game to the even larger online gaming market in China.
"It's hard to frame this one without superlatives: The world's biggest online publisher is bringing the world's biggest sports game to the world's biggest market," Moore said.
"In the months ahead, we expect to forge additional agreements to bring EA's biggest brands to new consumers in Asia and other new markets."
The combined business of FIFA Ultimate Team and FIFA Online was up 35 per cent year-on-year. However, Moore reminded investors that FIFA Online's current success in Korea is due to years of seeding the game in the region and building its popularity. EA does not foresee the game making a similar impact in China in the near-term.
"This is a little bit of a startup, if you will, with what TenCent is doing. So we see a slower ramp. We're not going to see much impact in this fiscal year. These are the types of things that build year 1, year 2, year 3 out."
EA's first quarter results offered a strong argument for the digital push instigated by its now departed CEO John Riccitiello. Around 75 per cent of the company's revenue came from digital channels ($378 million, up 17 per cent year-on-year), with Apple emerging as its most lucrative retail partners - largely due to The Simpsons: Tapped Out, Real Racing 3 and The Sims.
If Q1 were taken as the final quarter of the preceding 12 months, EA's digital revenues would be $1.7 billion - up 28 per cent year-on-year.
"It's not an experiment," said Frank Gibeau, head of EA's Games label, in an interview with GamesBeat. "It's a full commitment. We burned the ships and marched inland.
"The business is going digital. Mobile. Asia. A significant part of the business is in Asia. Does that mean retail is going away? No. But it's not an experiment. It's what we're all about."