FIFA and Mario Kart end 2021 at the top | UK Boxed Charts
The final boxed charts of the year are in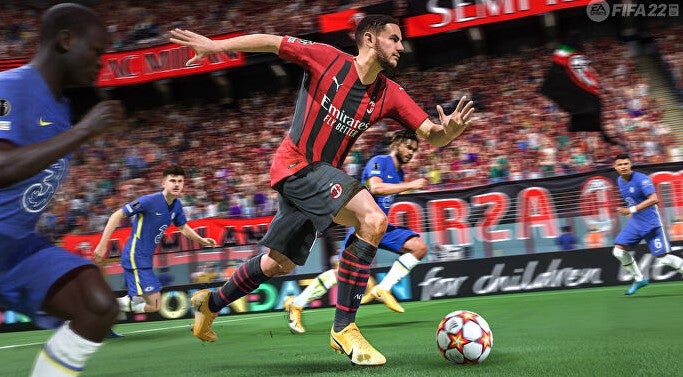 FIFA 22 and Mario Kart 8: Deluxe were the final No.1s of the year in the UK boxed charts.
After being crowned Christmas No.1 the week before December 25th, FIFA 22 held that position right up until the big day itself, with sales up 13% week-on-week.
But sales fell 63% over the following seven days, causing EA's football game to tumble to No.2.
In the week after Christmas, boxed games sales typically fall quite hard as the festive sales window comes to an end. And overall boxed game sales were down 40% last week.
However, Nintendo Switch games did comparatively well, which isn't a huge surprise considering the console was one of the top-selling Christmas products (which suggests a number of people will have received a Nintendo Switch on Christmas Day).
The Switch exclusive Mario Kart 8: Deluxe only dropped 16% in sales after Christmas, which means it claims the final No.1 spot of the year. It's the seventh time the game has been No.1 in the UK boxed charts since its launch in April 2017.
Meanwhile, Animal Crossing: New Horizons only suffered an 8% sales drop in the post-Christmas week, and that game rises from No.7 to No.3 as a result.
In total, there are five Nintendo Switch exclusives in the Top Ten (six if you include Just Dance 2022, which sees most of its sales on the Nintendo machine). Pokémon Brilliant Diamond is at No.6 (sales down 8%), Minecraft is at No.7 (down 38%), and Mario Party Superstars (down 14%) is at No.10. Just Dance 2022 dropped four places to No.8, with sales down 56%.
The week before Christmas, Call of Duty: Vanguard held its No.2 position despite a 7% drop in sales, but after Christmas it suffered a similar drop to FIFA (down 64% week-on-week), and the Activision game currently sits at No.5.
The only other game in the Top Five is Spider-Man: Miles Morales, which continues to sell well alongside new PS5 console stock.
The only game in the entire boxed Top 40 to rise in sales the week after Christmas is New Super Mario Bros U Deluxe at No.18, which saw a 3% sales increase.
The pre-Christmas big new releases were Grand Theft Auto The Trilogy: Definitive Edition (which debuted at No.8) and Among Us (No.5). The following week, GTA dropped 70% in sales and fell to No.23, while Among Us fell 81% in sales to No.29. The week afterwards, both games have dropped out of the Top 40 entirely.
Here are the final two weekly charts of 2021.
GfK UK Boxed Top Ten for the week ending December 25
| Last Week | This Week | Title |
| --- | --- | --- |
| 1 | 1 | FIFA 22 |
| 2 | 2 | Call of Duty: Vanguard |
| 3 | 3 | Mario Kart 8 Deluxe |
| 7 | 4 | Just Dance 2022 |
| 4 | 5 | Spider-Man: Miles Morales |
| 6 | 6 | Minecraft (Switch) |
| 10 | 7 | Animal Crossing: New Horizons |
| 13 | 8 | Battlefield 2042 |
| 15 | 9 | Far Cry 6 |
| 14 | 10 | Marvel's Guardians of the Galaxy |
The GfK UK Boxed Top Ten for the week ending January 1
| Last Week | This Week | Title |
| --- | --- | --- |
| 3 | 1 | Mario Kart 8 Deluxe |
| 1 | 2 | FIFA 22 |
| 7 | 3 | Animal Crossing: New Horizons |
| 5 | 4 | Spider-Man: Miles Morales |
| 2 | 5 | Call of Duty: Vanguard |
| 12 | 6 | Pokémon Brilliant Diamond |
| 6 | 7 | Minecraft (Switch) |
| 4 | 8 | Just Dance 2022 |
| 15 | 9 | Assassin's Creed Valhalla |
| 18 | 10 | Mario Party Superstars |