FIFA 20 and Xbox One dominate UK charts
FIFA boxed sales drop 7% year-on-year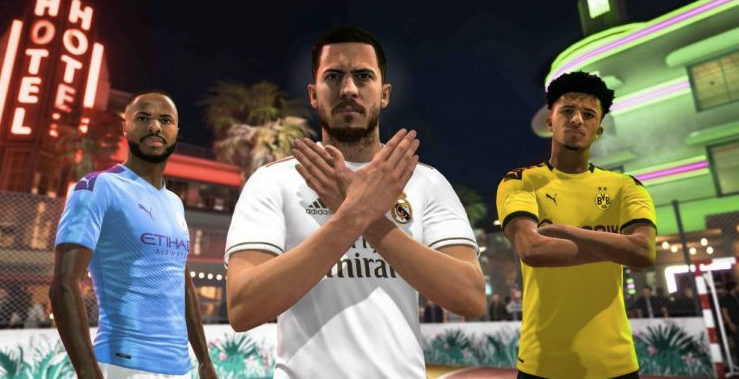 Unsurprisingly, FIFA 20 has topped the UK boxed charts in its first week on sale.
It is comfortably the biggest release of the year, although physical launch sales are down slightly compared with FIFA 19 (a drop of 7% year-on-year).
The PS4 version of the game accounted for 61% of the sales, with the Xbox One edition accounting for 38%. The Nintendo Switch 'Legacy' version accounted for 1% of sales.
The PS4 physical version attracted fewer sales this year, with both the Xbox One and Switch versions enjoying a slight increase in sales.
The Xbox One version was boosted by a special hardware bundle available from GAME, Amazon and the Microsoft store. The All-Digital Xbox One S was bundled with FIFA 20, Minecraft, Sea of Thieves and Forza Horizon 3 for £169.99. This meant that Sea of Thieves rose from No.21 to No.7 (up 199%), Minecraft on Xbox rose from No.22 to No.9 (up 197%) and Forza Horizon 3 increased 183% and is at No.10.
This all shows the impact a major release like FIFA can have on console sales and the performance of other titles.
Outside of FIFA 20, the next big release was Dragon Quest XI S: Echoes of an Elusive Age. The Square Enix game debuts on Switch at No.11 and arrives almost a year after the PS4 version (selling about half of what that version managed in its first week).
Meanwhile, Bandai Namco's Code Vein reached No.13 and Focus Home Interactive's The Surge 2 came in at No.35.
Last week's No.1, The Legend of Zelda: Link's Awakening, drops to No.2 with a 62% fall in sales week-on-week. Borderlands 3 tumbles from No.2 to No.3 with a 45% sales dip. Gears 5 holds firm at No.4 with a 70% increase in sales (the game also benefitted from a hardware bundle). Rounding off the Top Five is Crash Team Racing: Nitro-Fueled. The Activision game rose 74% in sales due to some price activity at UK retail.
The other games in the Top Ten also increased in sales. Ubisoft's The Division 2 at No.6 saw a sales bump (again thanks to a hardware bundle) of 53%, while Mario Kart 8: Deluxe enjoyed a 13% sales increased (but dropped from No.3 to No.8).
Overall, the number of boxed games sold at UK retail last week rose 285% week-on-week to 816,985 games sold. To highlight how rapid the decline of boxed game sales have been in the UK, two years ago FIFA 18 sold more than that alone.
Year-to-date, boxed game sales are 15.5% down in the UK.
Here is the UKIE/GfK Top Ten for the week ending September 28:
| Last Week | This Week | Title |
| --- | --- | --- |
| New Entry | 1 | FIFA 20 |
| 1 | 2 | The Legend of Zelda: Link's Awakening |
| 2 | 3 | Borderlands 3 |
| 4 | 4 | Gears 5 |
| 9 | 5 | Crash Team Racing: Nitro-Fueled |
| 6 | 6 | Tom Clancy's The Division 2 |
| 21 | 7 | Sea of Thieves |
| 3 | 8 | Mario Kart 8: Deluxe |
| 22 | 9 | Minecraft: Xbox Edition |
| 20 | 10 | Forza Horizon 3 |