Farming Simulator 19 most-downloaded game on EMEAA charts this week
FIFA 19 dominates combined retail and digital charts once more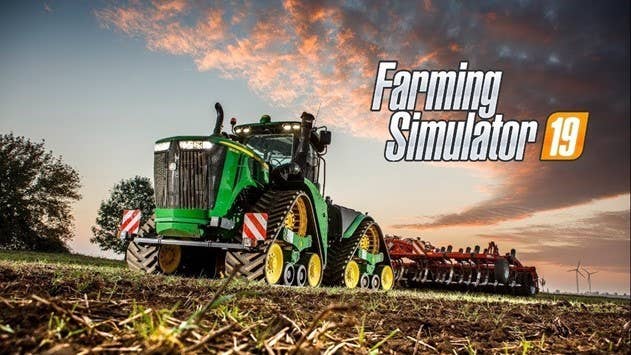 The EMEAA Charts following the week of Black Friday see an interesting mesh of newer and returning titles gracing its top 10 in both digital and retail charts as consumers across the region take advantage of sales. That said, there was really only one starkly surprising entry.
That surprise was Farming Simulator 19 which, though not a shocking presence on the charts (it debuted at No.4 on the combined charts) managed to stand at No.1 for digital downloads across the EMEAA region in an extremely competitive week for digital games.
At both retail and combined, FIFA 19 regained its top position, followed by Spider-Man. Beneath them are a surge of recent releases in Battlefield V, Farming Simulator 19, Call of Duty: Black Ops 4, Red Dead Redemption 2, and Assassin's Creed Odyssey, in order. But older releases, such as God of War and Detroit: Become Human also creeped their way back into the top 10 this week, at No.8 and No.10, respectively.
It is worth noting that Sony all but dominated sales by platform during Black Friday week, too, with only Farming Simulator 19 in PC and Pokemon on Nintendo Switch breaking up the long line of "PS4" indicators under platform breakdown.
Here is the combined physical/digital chart for the EMEAA region for the week ending November 25th:
| Last Week | This Week | Title |
| --- | --- | --- |
| 5 | 1 | FIFA 19 |
| 13 | 2 | Spider-Man |
| 8 | 3 | Battlefield V |
| New Entry | 4 | Farming Simulator 19 |
| 7 | 5 | Call of Duty: Black Ops 4 |
| 3 | 6 | Red Dead Redemption 2 |
| 10 | 7 | Assassin's Creed Odyssey |
| 17 | 8 | God of War |
| 2 | 9 | Pokemon: Let's Go, Pikachu! |
| 34 | 10 | Detroit: Become Human |
Participating companies in the GSD charts (run by B2boost on behalf of ISFE) are Activision Blizzard, Bandai Namco, Capcom, Codemasters, EA, Focus Home Interactive, Koch Media, Microsoft, Milestone, Paradox, Sega, Sony, Square Enix, Take-Two, Ubisoft and Warner Bros.
Digital data includes games sold in Australia, Austria, Bahrain, Belgium, Bulgaria, Croatia, Cyprus, Czech Republic, Denmark, Finland, France, Germany, Great Britain, Greece, Hungary, Iceland, India, Ireland, Israel, Italy, Kuwait Lebanon, Luxembourg, Malta, Netherlands, New Zealand, Norway, Oman, Poland, Portugal, Qatar, Romania, Russia, Saudi Arabia, Slovakia, Slovenia, South Africa, Spain, Sweden, Switzerland, Turkey, Ukraine and UAE.
Physical data includes all games, but only those sold in Belgium, Denmark, Finland, France, Italy, Netherlands, Norway, Poland, Portugal, Spain, Sweden and Switzerland.