F1 22 and Mario Strikers deliver big sales numbers across Europe | European Monthly Report
Nintendo Switch sales surge in June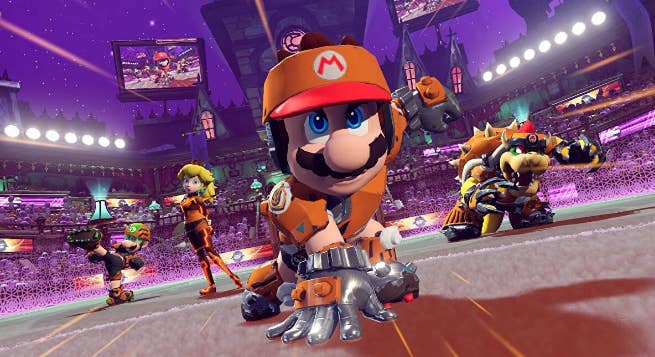 The games market across Europe enjoyed an improvement in sales during June, driven by Nintendo Switch, Mario Strikers and the new F1 game from EA.
Just over 377,000 consoles were sold across tracked European markets* last month, which is 11% down compared with the same period last year.
This is due to continued shortages of PS5 and Xbox Series X. However, compared with May 2022, sales are up 21.5%.
This is primarily due to a strong month for Nintendo Switch. The five-year-old console enjoyed a sales increase of 21% compared with May, and a nearly 35% increase over June last year.
Overall this year, console sales are down 21% year-to-date, primarily due to significant shortages of the PlayStation 5.
12.8 million games were sold across European markets*, a rise of nearly 30% compared with the same period in 2021, and more than 52% up over May 2022.
4.73 million of those games were physical boxed editions (up 24% year-on-year, and 36% up month-on-month), while 8.1 million were via digital download stores (up 33% year-on-year, and 65% month-on-month). May was a particularly quiet month for new game releases.
The No.1 game of June was EA's F1 2022, a feat it achieved after just one week on shelves. The racing game was particularly popular in the UK and Germany. It was a big launch for the new F1 game, with opening week sales up 23% compared with last year's F1 2021 (which launched in July).
FIFA 22 holds second place, just ahead of another football game in Mario Strikers: Battle League Football. The game may have charted higher, but Nintendo does not share digital sales with the charts company. Mario Strikers was the best-selling boxed game of the month.
Mario Strikers was a particularly big hit in France, with sales in that country representing over 40% of the game's entire European sales. Germany follows in second place with just over 19% of sales.
In just three weeks, the game has already outsold last year's Mario sports title: Mario Golf: Super Rush. But it's got some way to go before it competes with 2018's Mario Tennis Aces. There is a football World Cup at the end of the year, which may be another opportunity for Nintendo to promote Mario Strikers: Battle League.
Also new in the charts this week is The Quarry from 2K Games and Supermassive Games, which debuts at No.8. The horror game's sales are 19% higher than Supermassive's last title: The Dark Pictures Anthology: House of Ashes, which was released in October last year.
In terms of accessories, 1.37 million of these products were sold across tracked markets, once again led by the PS5 DualSense controller. Sales are up 24.3% compared with the same period in 2021, and up 36.5% over May.
Over 1.24 million points and online subscription cards were sold during the month, up 9.9% compared with June 2021, and up 34% compared with May 2022.
European GSD June 2022 Top 20 Games (Digital + Physical)
Position
Title
1
F1 22 (EA)
2
FIFA 22 (EA)
3
Mario Strikers: Battle League Football* (Nintendo)
4
Grand Theft Auto 5 (Rockstar)
5
LEGO Star Wars: The Skywalker Saga (Nintendo)
6
Nintendo Switch Sports (Nintendo)*
7
Red Dead Redemption 2 (Rockstar)
8
The Quarry (2K Games)
9
Horizon: Forbidden West (Sony)
10
Elden Ring (Bandai Namco)
11
Mario Kart 8: Deluxe (Nintendo)*
12
NBA 2K22 (2K Games)
13
Football Manager 22 (Sega)
14
Star Wars Jedi: Fallen Order (EA)
15
Gran Turismo 7 (Sony)
16
Sid Meier's Civilization VI (2K Games)
17
Far Cry 6 (Ubisoft)
18
Assassin's Creed Origins (Ubisoft)
19
Dragon's Dogma: Dark Arisen (Capcom)
20
Minecraft Switch Edition (Microsoft)
* Digital data unavailable
GSD digital data includes games from participating companies sold via Steam, Xbox Live, PlayStation Network, Nintendo Eshop. Major participating companies are Activision Blizzard, Bandai Namco, Capcom, Codemasters, Electronic Arts, Embracer Group (including Gearbox, Koch Media, Sabre Interactive), Focus Entertainment, Konami, Marvellous Games, Microids, Microsoft (including Bethesda), Milestone, Nacon, Paradox Interactive, Quantic Dream, Sega, Sony, Square Enix, Take-Two, Ubisoft and Warner Bros. Nintendo and 505 Games are the notable absentees, alongside smaller studios.
Digital data includes games sold in Austria, Bahrain, Belgium, Bulgaria, Croatia, Cyprus, Czech Republic, Denmark, Finland, France, Germany, Greece, Hungary, Iceland, Ireland, Italy, Luxembourg, Malta, Netherlands, Norway, Poland, Portugal, Romania, Russia, Slovakia, Slovenia, Spain, Sweden, Switzerland, Turkey, Ukraine, UAE and United Kingdom.
Physical data includes all games, but only those sold in Austria, Belgium, Denmark, Finland, France, Germany, Italy, Netherlands, Norway, Poland, Portugal, Spain, Sweden, Switzerland and United Kingdom.
Console hardware sales cover Belgium, Denmark, Finland, France, Italy, Portugal, Russia, Spain, Sweden and Switzerland. Accessories sales cover the same markets, but doesn't include Switzerland.