Elite: Dangerous drops offline mode
Frontier says refunds for Kickstarted sci-fi game will be determined on a case-by-case basis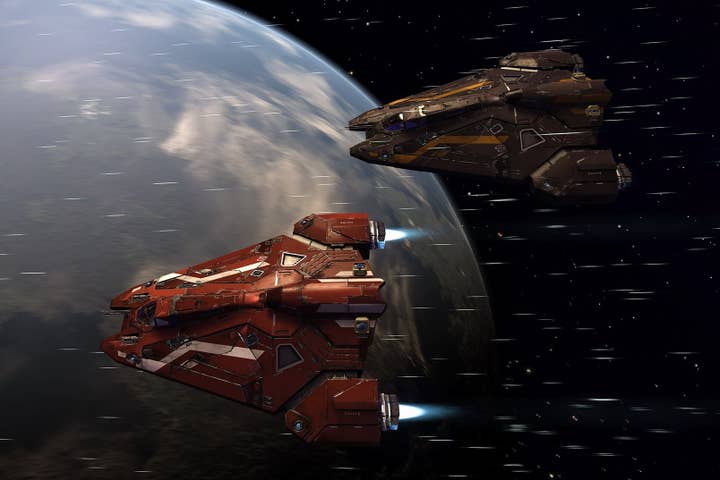 Update
In an interview with Eurogamer David Braben attempted to explain in more detail the reasons behind the decision.
"In retrospect we should have shared the fact that we were struggling with this aspect with the community, but we were still trying to find a solution," he said.
"As features were implemented, for the best results we chose to prioritise delivery of the online single and multiplayer experiences, with a view to providing the offline version later in development. We had to make a decision for the good of the game, and that is what we did."
Original story
Early last year, Frontier Developments secured £1.5 million on Kickstarter to create a new installment in the Elite series of space sims. The campaign promised to give players a spaceship, some pocket change, and an open universe they could inhabit as a pirate, bounty hunter, trader, or assassin.
"And the best part," according to the project description, "you can do all this online with your friends, or other Elite pilots like yourself, or even alone. The choice is yours..."
That's no longer the case, as a note from series creator David Braben in the game's latest newsletter states that the developer has changed direction, and is no longer going to offer an offline mode in the finished product.
"Going forwards, being online lets us constantly both curate and evolve the galaxy, with stories unfolding according to the actions of commanders," Braben explained. "Exploration is also a key factor, too, and it is important that what a single player explores matches what other players explore whether single or multiplayer - a complex, coherent world - something we have achieved. Galaxy, story, missions, have to match, and it does mean the single player has to connect to the server from time to time, but this has the added advantage that everyone can participate in the activities that can happen in the galaxy. A fully offline experience would be unacceptably limited and static compared to the dynamic, ever unfolding experience we are delivering."
Predictably, the news did not go over well with backers who had been particularly interested in offline play. A thread on the game's official message boards started Friday and as of this writing had logged roughly 6,200 comments. The comments page on the original Kickstarter also includes notes from upset backers, as well as a Frontier representative saying "We'll be offering refunds on a case by case basis, more information on that soon."
A Frontier representative declined to detail what sort of considerations would be taken into account when determining which cases will see their Kickstarter pledges refunded.
Elite: Dangerous will launch December 16.