Elden Ring is the biggest new IP since The Division | European Monthly Charts
PS5 and Xbox Series X stock woes continue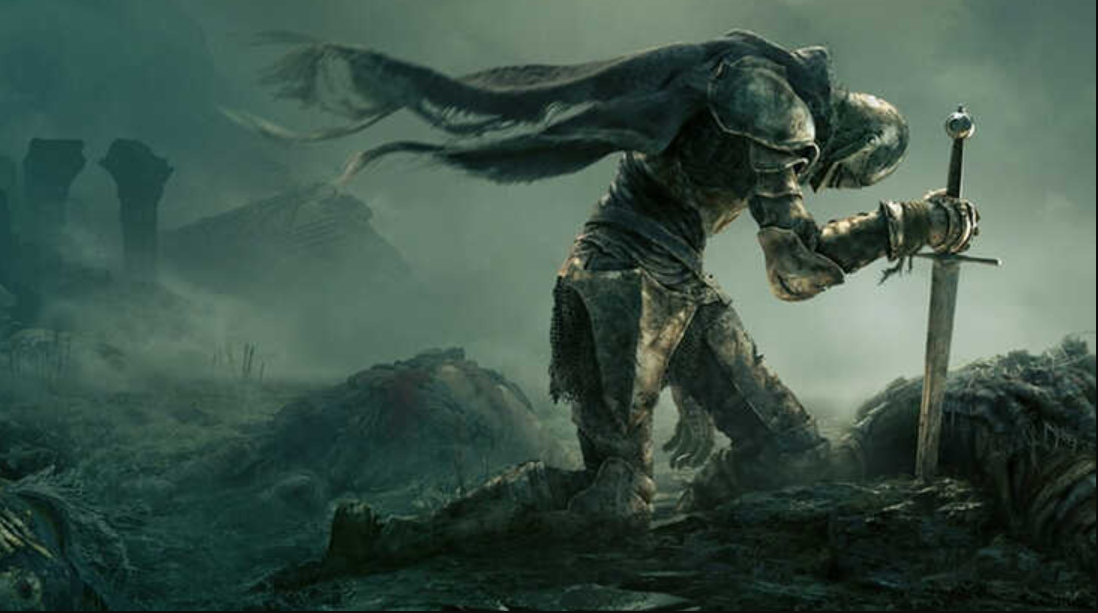 Elden Ring is Europe's biggest new games IP since The Division in 2016, and the biggest game launch since Call of Duty: Vanguard in November last year, according to the latest GSD market report.
The FromSoftware game sold best on PC, representing 44% of total sales. Then it's PS5 with 27%, then Xbox (16%) and finally PS4 (13%).
It was comfortably Europe's biggest game of February, and was No.1 in most major territories, with the exception of Germany, which had Pokémon Legends: Arceus at No.1.
The second placed game of the month was Horizon Forbidden West. Forbidden West is the biggest PS5 launch outside of the Call of Duty franchise. 59% of Horizon's sales were on PS5, with the remainder coming on PS4 -- which just goes to highlight why Sony is continuing to release new games on its previous machine.
It's worth noting that the PS4 version of Horizon was available for slightly less than the PS5 edition, and players were able to upgrade from PS4 to PS5 for free, which will have skewed that number.
The best-selling game by single format (so only on one console) was Pokémon Legends: Arceus, which was just ahead of Elden Ring on PC. This is despite Nintendo not sharing digital numbers, so Pokémon's sales are purely physical.
At No.5 in the charts is Dying Light 2: Stay Human. The new zombie game from Techland sold best on PS5, which accounted for 44% of sales, followed by PS4 (28%), then Xbox Series (16%) and finally PC (12%).
Rounding off the new games is the PC game Total War: Warhammer 3, which reached No.7 in the charts.
Overall, 13.56 million games were sold across European markets, which is 8% up over February 2021. The Physical market saw 5.9 million games sold (up 11%) and digital accounted for 7.66 million (up 6%).
Xbox Overtakes PS5 as stock woes continue
In terms of European console sales, Nintendo Switch was comfortably the No.1 console. (Note: UK and Germany are the major European countries not included in this data).
Overall, hardware sales are down 32% over January and down 44% compared with February last year.
Switch sales are down 14% compared with the same month in 2021, but is up 52% compared to February 2020, which was pre-pandemic.
PS5 and Xbox Series X continues to struggle with stock levels. As a result, for the first time, more Xbox Series consoles were sold across Europe than PS5s. This is primarily due to the availability of the Xbox Series S model.
DualShock 4 is top accessory
Over in accessories (including toys-to-life), 1.3m add-on products were sold in February, GSD data shows. That's a fall of 27% over January and 11% over February the year before.
The best-selling accessory was the DualShock 4 controller for PlayStation 4. The pad is just ahead of the PS5 DualSense at No.2, with Nintendo Switch Joy-Cons at No.3, and the Xbox Series Wireless Controller at No.4. The highest charting accessory that isn't a controller is the PS5 Pulse 3D Headset at No.5.
European GSD February 2021 Top 20 Games (Digital + Physical)
Position
Title
1
Elden Ring (Bandai Namco)
2
Horizon Forbidden West (Sony)
3
Pokémon Legends: Arceus (Nintendo)
4
FIFA 22 (EA)
5
Dying Light 2: Stay Human (Techland)
6
Grand Theft Auto 5 (Rockstar)
7
Total War: Warhammer 3 (Sega)
8
Mario Party Superstars (Nintendo)*
9
XCOM 2 (2K Games)
10
Mario Kart 8: Deluxe (Nintendo)*
11
F1 2021 (Codemasters)
12
Red Dead Redemption 2 (Rockstar)
13
Big Brain Academy: Brain vs Brain (Nintendo)*
14
NBA 2K22 (2K Games)
15
Assassin's Creed Valhalla (Ubisoft)
16
Call of Duty: Vanguard (Activision Blizzard)
17
Super Mario 3D World + Bowser's Fury (Nintendo)*
18
Minecraft: Nintendo Switch edition
19
Pokémon Brilliant Diamond (Nintendo)*
20
Just Dance 2022 (Ubisoft)
* Digital data unavailable
GSD digital data includes games from participating companies sold via Steam, Xbox Live, PlayStation Network, Nintendo Eshop. Participating companies are Activision Blizzard, Bandai Namco, Big Ben Interactive, Capcom, Electronic Arts, Focus Home Interactive, Just For Games, Koch Media, Konami, Microids, Microsoft, Milestone, Paradox Interactive, Quantic Dream, Sega, Sony, Square Enix, Strelka, Take-Two, Tinybull, Ubisoft, UsTwo, Walt Disney, Warner Bros and Wizards of the Coast. Nintendo and Bethesda are the notable absentees, alongside smaller studios.
Digital data includes games sold in Austria, Bahrain, Belgium, Bulgaria, Croatia, Cyprus, Czech Republic, Denmark, Finland, France, Germany, Greece, Hungary, Iceland, Ireland, Italy, Luxembourg, Malta, Netherlands, Norway, Poland, Portugal, Romania, Russia, Slovakia, Slovenia, Spain, Sweden, Switzerland, Turkey, Ukraine, UAE and United Kingdom.
Physical data includes all games, but only those sold in Austria, Belgium, Denmark, Finland, France, Germany, Italy, Netherlands, Norway, Poland, Portugal, Spain, Sweden, Switzerland and United Kingdom.
Console hardware sales cover Belgium, Denmark, Finland, France, Italy, Portugal, Russia, Spain, Sweden and Switzerland. Accessories sales cover the same markets, but doesn't include Switzerland.