EA still wants to publish a Kingdoms of Amalur 2
Frank Gibeau praised the first game from 38 Studios and "would love" to be a partner on a sequel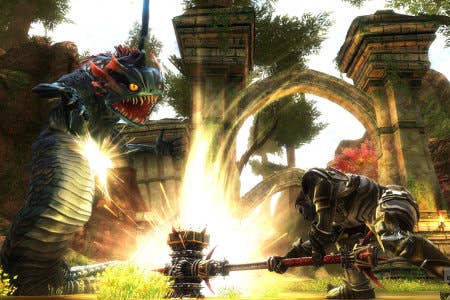 38 Studios' collapse is quite unfortunate, but the quality of the studio's Kingdoms of Amalur: Reckoning wasn't to blame. In fact, the game reviewed well enough that publisher Electronic Arts would be interested in partnering on a sequel.
"I think it's unfortunate how everything worked out [for 38 Studios]," Gibeau said. "At the end of the day, we saw a lot of creativity and vision in the team that Curt [Schilling] put together. We thought the game was terrific. It reviewed well. We built a good business there and hope there's a sequel to it someday. We'd love to be a partner for that," EA Labels boss Frank Gibeau told Game Informer magazine.
At this point, it's difficult to see a sequel getting made, as The Kingdoms of Amalur intellectual property rights are actually owned by the state of Rhode Island, which remains in the process of trying to reclaim 38's massive government loan.
On top of that, many of the team at Big Huge Games were hired by Epic Games to create a Baltimore studio. If EA got the rights and managed to spearhead development on a sequel, it would have to be led by a largely different set of developers.
[via Eurogamer]