EA quarterly sales slide due to later FIFA, Madden launches
Full game sales for the second quarter halved but publisher still beats guidance, announces stock buyback and dividend plans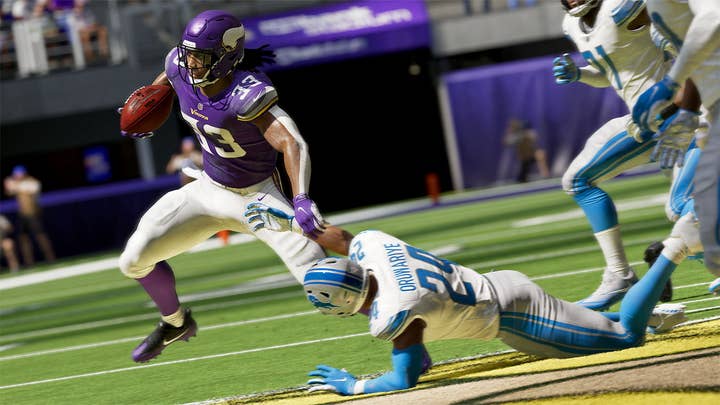 Electronic Arts today reported its second quarter results with significant dips, but still beat the revenue and earnings forecast it set for investors.
For the three months ended September 30, EA reported net revenues down 15% to $1.15 billion, with net income down 88% to $185 million. Net bookings were down 31% to $910 million.
There were mitigating factors for those numbers, however. On net income, the previous year's total was only as high as it was thanks to a one-time tax benefit the company recognized.
Beyond that, the revenue and bookings declines can be attributed in part to EA modifying its annualized release schedule. Last year's second quarter included Madden, Sea of Solitude, FIFA, and NHL, but this year the FIFA and NHL releases slid into the third quarter.
In their place for this year's second quarter, EA had a lineup of Madden (which launched almost four weeks later in the quarter this year than last), UFC 4, Rocket Arena, and Star Wars: Squadrons.
As for how that lineup did, EA said first-week sell-through of Madden 21 was up 20% year-over-year, while Squadrons "performed above our expectations," with no numbers given.
In announcing an extension to its UFC licensing deal today, it also noted that UFC 4 was the most successful UFC game to date, though it did not say by what metric.
As for the rest of the business, EA said Apex Legends bookings were up 24% year-over-year in the quarter, with the game on track to top $1 billion in lifetime revenues by the March 31 end of EA's fiscal year, with more than $500 million coming this fiscal year alone. EA Sports Ultimate Team modes also saw their player base grow 25% year-over-year to more than 30 million players.
The EA Play subscription service has also grown, with a total of 6.5 million paying subscribers thanks in part to its debut on Steam this past quarter. EA expects that EA Play user base to grow significantly more as it will be wrapped up in Xbox Game Pass subscriptions beginning next week.
While live services revenues actually increased 13% to $869 million, full game sales were down more than half to $282 million.
Along with its financial results, EA announced a two-year stock repurchase program that will see it buy back up to $2.6 billion of the company's stock. In addition, it is launching a quarterly dividend program, with the first dividend of $0.17 per share paying out December 23. (As of this writing, EA shares are trading for $128.33, up 2.4% since the close of trading.)
Looking forward, EA kept its full-year net revenues forecast at $5.63 billion, but increased its net income forecast up 6% to $924 million.
In a post-earnings conference call, EA executives confirmed that the next Battlefield game will arrive in the holiday quarter of 2021, with the publisher talking more about the game starting in the spring.