EA grows sales to $4.5 billion in Fiscal 2015
Publisher continues to boost digital earnings, as digital revenues easily account for over 50% on non-GAAP basis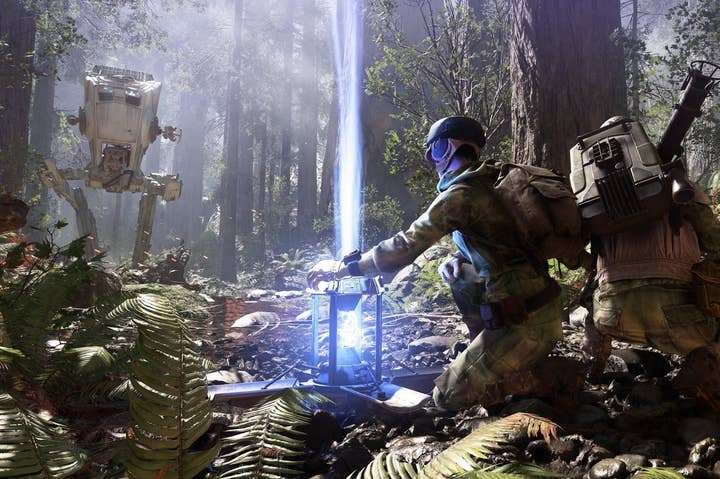 Electronic Arts has issued its fourth quarter and full-year earnings report for the period ended March 31, and business is continuing to move in the right direction for a company that dealt with years of investor impatience.
For the fourth quarter, net income climbed from $367 million to $395 million, while total revenues were up just a hair at $1.18 billion. On a non-GAAP basis, net income for the quarter fell from $152 million to $125 million while net revenues dipped from $914 million to $896 million. Looking at the full year, total sales jumped from $3.58 billion to $4.52 billion as net income jumped from just $8 million to $875 million. Non-GAAP, income increased from $534 million to $806 million as total revenues rose from $4.02 billion to $4.32 billion.
Importantly, EA noted that of that non-GAAP revenue total a record $2.23 billion was digital, while the net income and operating cash flow of $1.067 billion was "a record for any fiscal year." The company's mobile games business was also a huge contributor, with a record $524 million in revenues for the fiscal year.
"With a clear focus on putting our players first, FY15 was an exceptional year for Electronic Arts. We introduced award-winning games, delivered enduring entertainment in our live services, and forged deeper relationships with a growing global audience across consoles, mobile devices and PC," said Chief Executive Officer Andrew Wilson. "EA continues to sharpen our focus and speed, and in the year ahead we will engage more players on more platforms with new experiences like Star Wars Battlefront, FIFA 16, Minions Paradise and more."
"Two years ago, we discussed a three-year plan to double non-GAAP operating margins to 20 percent," added Chief Financial Officer Blake Jorgensen. "Today, I'm happy to announce that we exceeded our goal a full year ahead of schedule. Looking forward, we anticipate continued earnings growth driven by our strong portfolio, investment in new IP, the market shift to digital, and on-going cost discipline."
Along with the positive earnings, EA also announced a new $1 billion share repurchase plan for stockholders. Under the program, which expires on May 31, 2017, EA may purchase stock in the open market "or through privately negotiated transactions in accordance with applicable securities laws, including pursuant to pre-arranged stock trading plans." This new plan replaces an older stock repurchase authorization plan approved back in May 2014.
Looking ahead to Fiscal 2016, the publisher is eagerly awaiting the launch of Star Wars Battlefront on November 17, 2015. EA has provided FY2016 outlook for GAAP net revenue of $4.250 billion, Non-GAAP net revenue of about $4.400 billion, GAAP diluted earnings per share at $1.90, and Non-GAAP diluted earnings per share at $2.75.
Update: Investors are clearly pleased with EA's results, as the company's shares are climbing, up around 4 percent to $61.60 in after-hours trading.
In a post-earnings conference call, EA execs also talked about expectations for a number of its titles. The new Mirror's Edge is expected to launch in the final quarter of EA's current fiscal year (January-March 2016), while investors were told to assume a follow-up to Titanfall would arrive in the next fiscal year (April 2016-March 2017).
Additionally, this year's sci-fi shooter Star Wars: Battlefront is expected to sell 9-10 million copies this fiscal year. And even though Battlefront is skipping the legacy generation of consoles, EA is not yet done with the PlayStation 3 and Xbox 360. Executives said the company's established franchises and sports titles would continue to arrive on those platforms for the time being, but new franchises would be more likely to skip them.