EA extends free Xbox Series X upgrade offer for Madden NFL 21 after player complaints
Publisher is not using Xbox's Smart Delivery tech, but instead using its own 'Dual Entitlement' model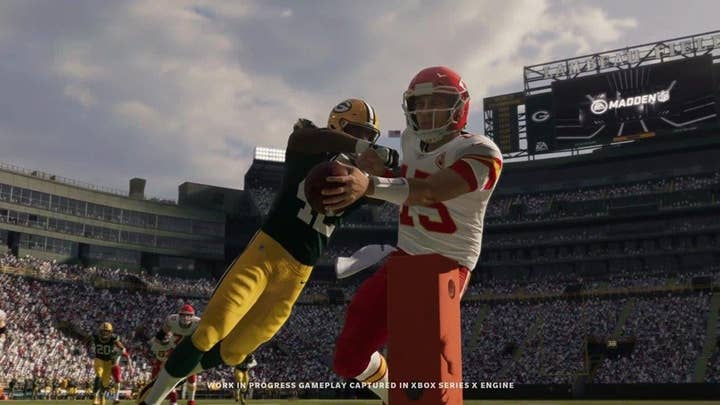 Electronic Arts has revised its offer around the Xbox Series X version of Madden NFL 21, promising a free upgrade until next year's game releases.
The publisher announced during last month's next-generation games showcase on Inside Xbox that players who purchase the game one Xbox One will receive the next-gen version at no extra cost.
However, Polygon reports this originally came with caveats. A statement on EA's website previously said players would have to buy Madden NFL 21 before December 31, 2020 to be eligible for the offer, and claim the Xbox Series X version by March 31, 2021.
Effectively, this would have forced all players to buy a copy of the game this year and buy the new console within its first few months on sale.
EA has since changed this policy, although without a public announcement. The publisher told Polygon it "decided to hold back consumer facing communication" to "allow more important voices to be heard."
This refers to the ongoing protests against police brutality and racial injustice, a cause to which EA has donated more than $1 million.
The revised statement on the EA Sports website clarifies that the offer of a free Xbox Series X upgrade has been extended "all the way through our Madden 21 season up to the release of Madden NFL 22."
The company says it made the change "having listened to our players' response," suggesting the original time constraints were not well-received.
An interesting note is that the free upgrade is apparently not handled through Microsoft's Smart Delivery technology, which gives owners of qualifying Xbox One titles access to the Xbox Series X version.
Since Madden NFL 21 is out on August 25, considerably earlier than the next-gen console, EA is working with Microsoft on its own "Dual Entitlement" program. This will mean owners of Madden on Xbox One will still be given the free upgrade, which will come with features not available on the current generation.
In an FAQ, the publisher is non-committal as to whether the same offer will be available to PS4 owners upgrading to PS5. More news on this will be given at EA Play Live on June 18.