E3 remaining in LA for at least 3 years
City to host consumer show for foreseeable future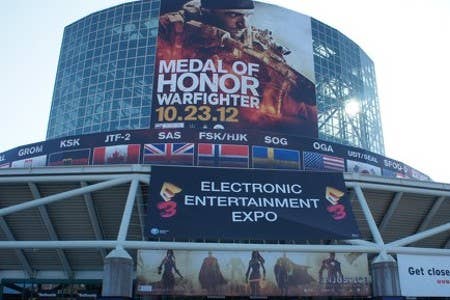 The ESA has confirmed that E3 will remain in the city of Los Angeles for at least the next three years, with next year's show taking place from "June 11-13, 2013, at the Los Angeles Convention Center, L.A. LIVE and a plethora of venues throughout downtown Los Angeles and the City."
Speculation had been rife that the event's venue would be changing, after the LA Convention Center was scheduled to for demolition to make way for a new sports arena, Farmer's Field. Now, it seems that a stay of execution may have been granted.
"We are proud to partner with Los Angeles for another three years," said ESA CEO Michael D. Gallagher. The City serves as a strong backdrop for the video game industry's biggest announcements and we look forward to remaining in LA. Video games are a dominant force in the global entertainment marketplace and there is no better place to display that than Los Angeles. We look forward to continuing our relationship with the City and AEG.
"ESA supports AEG's mission and vision for downtown Los Angeles and the areas surrounding the Los Angeles Convention Center. We appreciate AEG's willingness to work in partnership with our organization to not only create a construction schedule to accommodate the needs of our guests but also their commitment to incorporate many of our suggestions into the design of the new venues.
"These resulting upgrades to the facility will truly benefit all conventions and further establish Los Angeles as industry leaders. We are glad we could come to an agreement that keeps E3 in its traditional home."
Development of Farmer's Field will go ahead, so future years may see more of the show's content moved to other venues, but for now it remains E3's home.