E3 2018: Microsoft finally comes out of its "self-imposed damage control position"
Industry analysts on Sony's muted E3 briefing, and why it's too soon to know if Microsoft's studio acquisitions will be proved "smart or dumb"
As the curtain falls on another E3, the consensus appears to be that Xbox had a much stronger year than PlayStation. According to industry analysts, though, Sony essentially ceded the floor to Microsoft, not so much 'losing' E3 as electing not to directly compete with its great rival.
SuperData founder Joost van Dreunen observed that Sony's briefing felt "like one you'd expect from a publisher and not from a platform" - reinforcing its commitment to high quality single-player experiences, with little emphasis on PlayStation as a whole. In that sense, the Sony conference was what IHS Markit's Piers Harding-Rolls described as "a break with tradition."
"Sony's E3 event was an experiment to test the way it could present its first-party output to the media," Harding-Rolls said. "It aimed to underline the depth of Sony's IP, its highly skilled development teams, and its ability to craft engaging and immersive stories and characters. It delivered on that target, but left the door open for Microsoft to reveal new titles from third-parties, even if they weren't exclusives to the Xbox One platform."
"PlayStation's E3 briefing was an indication that we're getting to the end of the current console life-cycle"

Tom Wijman
The majority opinion seems to be that the decision didn't quite pay off, and that was reflected in the focus of the media. ICO Partners' Thomas Bidaux monitors press coverage throughout E3, and the early numbers suggest that this was Sony's worst year in terms of articles and headlines since it started tracking the data in 2014. However, E3 is no longer the only stage on which Sony reveals new games and experiences to the world.
"This said, I am not particularly worried for Sony," Bidaux added. "I wonder if this is not just another step towards beefing up its own events that, over the past two years, have gotten more and more of its key announcements.
"It might just be a sign that Sony's approach of multiple large press conferences every year mean that it will put less emphasis on E3, and that its focus will be more on short communication life-cycles rather than hyping games long in advance."
It could also be a sign that attention has already turned to the next generation of consoles. The Last of Us Part II and Death Stranding were a huge part of the PlayStation briefing, and yet neither had even the vaguest of launch windows attached, and neither demo was explicitly stated to be running on PS4 hardware. Amidst the haze, Newzoo's Tom Wijman sensed the coming end of the console generation.
"I think PlayStation's E3 briefing was an indication that we're getting to the end of the current console life-cycle," Wijman said. "There are simply fewer exciting things coming for PS4, and developers that now start to develop a completely new game might already be eyeing next generation console as their launch platform."
"These acquisitions will be judged smart or dumb years from now based on the sustained quality, or lack thereof, from these studios"

Lewis Ward
The long view was also necessary to fully appreciate the Xbox briefing. While Microsoft had more games crammed into its 90-ish minutes than Sony, it was the promise of games to come that most impressed the industry's analysts. With the acquisition of four studios and the creation of one other, Xbox has doubled its development capacity at a stroke. However, with a deficit of around 36 million consoles in this generation - an installed base of 39.1 million Xbox Ones versus 76.6 million PS4s as of March 2018, according to IHS Markit - this bold move is unlikely to have been made with the next year or two in mind.
"Microsoft has been playing catch up for years in terms of its first-party game dev capabilities," said IDC's Lewis Ward. "I think it did make more noise on this front this year than in the past several years. At the end of the day it's investing in talent, so this isn't just about the next game due out from these studios, but what ideas they have for their next two or three titles. These acquisitions will be judged smart or dumb years from now based on the sustained quality, or lack thereof, from these studios."
For ICO Partners, the Xbox E3 briefing was a statement from Microsoft that the years of strategic back-pedalling and apparent first-party retrenchment are over.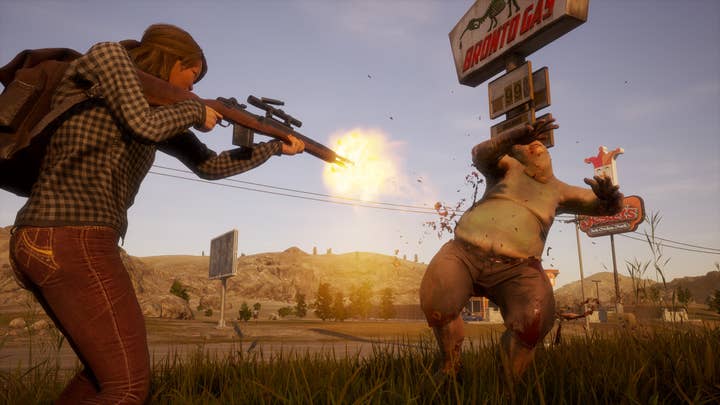 "We finally have signs that Microsoft will come out of its self-imposed damage control position," he said. "Of course, Microsoft would never admit it, but the last couple of years it was not very ambitious. They had a number of projects that to me looked like stop-gap solutions, a very limited number of proper exclusives, and while it gave us the brilliant Cuphead, it did very little to prevent the Xbox being steamrolled by the Playstation 4 and the Nintendo Switch in sales numbers.
"Microsoft would never admit it, but the last couple of years it was not very ambitious"

Thomas Bidaux
"Microsoft's internal production capacity had diminished over the years, and for multiple studios to be acquired in a short timeframe, and for those acquisitions to make it to the E3 stage, Microsoft must have something brewing to turn the trend around. the fact it coincides with the first murmurs of new hardware seems to match with this notion.
"I am looking forward to Microsoft doing more than the expected minimum in the coming two years if these signs are indicative of what's to come."
Newzoo's Tom Wijman poured a little cold water on the enthusiasm that has greeted Microsoft's expanded roster of studios. Playground Games and Undead Labs were already integral to the company's first-party output, which was widely agreed to be lacking in both variety and quality. The two genuinely new additions are Ninja Theory and We Happy Few developer Compulsion Games, and the latter case, "there is no guarantee that they will be able to transition to full-blown AAA releases." This is all the more relevant given that modern AAA games are often services that require "support for years to come."
Whether you are optimistic or pessimistic about the enlarged family of studios, though, E3 was a welcome sign that Microsoft sees the games business as a long-term concern. As David Cole of DFC Intelligence pointed out, the company's time under CEO Satya Nadella has been incredibly successful, and that success owes very little to games. Indeed, the games business is something of an outlier at Microsoft, and it certainly wasn't safe from being cut or drastically reduced.
"Microsoft has been focusing on business-to-business services and shutting down many of its consumer-facing products," Cole said. "The game business is the major consumer entertainment dedicated business left for Microsoft.
"The good news is that going forward Microsoft seems committed to the space. In recent years, it has cut back on internal development and it really hurt them in the battle with Sony. The fact that Microsoft is beefing up its internal development is a good sign that the company plans to stay in the game business for the long haul."