Dude, Where's My Money? Part Three: From Hunting To Gathering
Nikolay Bondarenko's publishing advice series continues with an in-depth look at bundles and crowdfunding
Hope you're not tired of me yet. We've already talked about pricing, discounts, wishlists, page design and community engagement, regional restrictions, third-party stores, distributors, and alternative open platform options.
Now let's talk about some other cool tools at your disposal: bundles, foundations, and vendor support. We'll see how crowdfunding works in 2018 and whether or not there's still life left in Kickstarter.
We'll also be counting other people's money again and making grandiose plans to conquer the world.
Third-Party Bundles
Nine to twelve months after your game's release, you've sold most of your copies on Steam. Now it's time to bundle. The format is simple: you sell a lot of copies at wholesale prices or get a fixed bonus for participating. There are many companies that offer bundles.
"What advantages do bundles offer? For one thing, having plenty of activated keys and copies installed on Steam will raise your organic traffic"
I'm sure you've seen or heard about bundles from stores such as Humble Bundle, G2A, IndieGala, Green Man Gaming, GamersGate, Fanatical, and Gamivo. In 2018, practically all large (and many medium-sized) third-party platforms use this format in one way or another, and it works according to a uniform set of rules.
Keep in mind that all the unused keys you generate for bundles will very likely be resold, which basically puts an end to your organic sales. Also keep in mind that third-party bundles should only be used after you've burned through all of your organic sales and discounts.
Below you can see the unsuccessful experience of a studio that put its game in HB bundles three months after release. As you can see, they essentially buried their own game.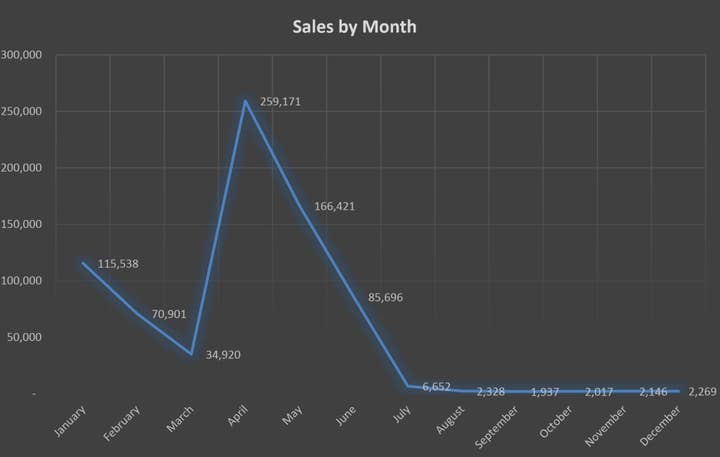 Anyway, these stores pay you a flat fee for every key included in a bundle. The rate is about $0.25 to $0.35 per key for B-class games, $0.70 to $1.20 for BB or A games, and $2 to $4 for AAA games. Bundle size is often in the 5,000 to 30,000 range, or $2,000 to 10,000 for B-class games. Of course, prices may vary (a lot) and directly depend on your negotiation skills.
What advantages do bundles offer - aside from money, that is? For one thing, having plenty of activated keys and copies installed on Steam will raise your organic traffic. You'll get more reviews (they don't affect the ranking) that friends of players see through notifications on Steam's social network. The number of installations increases, and this affects the 'Similar Products' section.
When it comes to the bundle format, Humble Bundle (HB) is perhaps the most recognized platform among developers. News about this store is usually accompanied by the sarcastic designation of "humble lose bundle." In the last year and a half HB has stopped focusing on having one to two relatively fresh AAA games per bundle. And there's nothing strange about this - since 2015 the company has been actively promoting a subscription service ($12 a month) that gives players access to a brand new selection of good games every month, including one AAA game.
Between 2010 and December 2013 HB launched 70 bundles, and in 2014 it started actively promoting books and music. They've released more than 650 bundles to date. If you're not familiar with The Humble Visualizations, go check it out right now (2011-2016).
File this one under "for what it's worth": I know developers whose games were in four bundles in 2017 and two in 2018. All are decent indie games that launched between 2016 and 2017. The average participation bonus was $14,000. The average number of copies sold was around 25,000.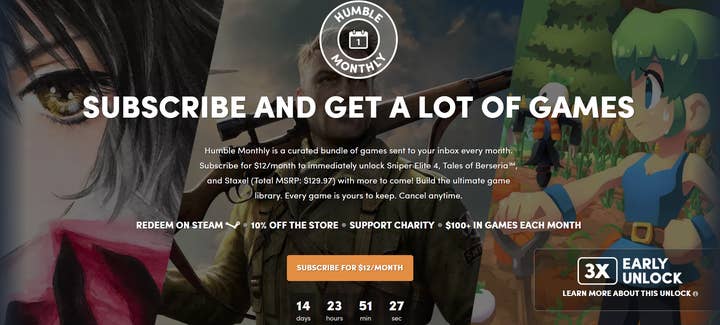 How does an HB subscription work? You contact their manager, and if your game meets their quality requirements or the format of a sale, you're in. Humble offers a fixed amount for adding your game to its subscription service regardless of how many people actually get the game. As of early 2018 the number of subscribers exceeded 200,000, and, judging by current trends, it will double in 2019.
At the beginning of the year the subscription bonus for BB and A-class games totaled about $10,000 to 90,000 ($0.05 to $0.45 per copy) depending on the game's quality and Humble Bundle's internal evaluation policy, which is based on the number of copies sold, the number and quality of reviews on Steam, and guesswork.
Steam Bundles
This tool is pretty simple: you take your games and DLC packs and sell them as a bundle. These come in two varieties: bundles that allow players to purchase the items they don't have yet ("complete the set"), and bundles that don't ("must purchase together"). You need the latter if you want to make a Special Edition of your game.
In the first article we talked about discounts and the fact that Weeklong Deals and your own discounts have one unpleasant limitation: you can only run them once every 60 days. This is where bundles come in. Let's talk about bundles that consist of several games, including games from different developers.

These bundles are displayed in the 'Specials' section, and they have a separate automatic feature option on Steam. This format has one crucial difference from individual game sales: bundles with multiple games are not subject to any restrictions on changing the discount. You can change it every five minutes if you want to. You can even sell your game as part of several different bundles simultaneously. Carefully selecting bundles allows you to increase your sales and use the time between discount windows efficiently.
It's a tool that every decent game publisher uses. It's great for making proper sets that include your own games and those of your partners.
This is also a good reason to make friends. If you've embarked on the path of self-publishing, look for other guys from the "desperate club" and try to negotiate joint bundles with them.
You Are Not Alone
This is an important point that, strangely enough, many people forget or don't even seriously consider. If you're developing a game on Unreal or Unity, remember that the companies behind those engines have more to offer than prizes at industry conferences and exhibitions.
"If you've embarked on the path of self-publishing, look for other guys from the "desperate club" and try to negotiate joint bundles with them"
Epic supports developers with grants (Unreal Dev Grants, $5,000-50,000). Xsolla has an investment fund for developers called Xsolla Capital. Mail.Ru has a special division called Mail.Ru Games Ventures and invests in game developers and projects. Wargaming.net and LVP have created an investment fund for game developers. The Dutch publisher Good Shepherd raises capital for game projects. Nvidia offers support, training, and even PR through the Indie Spotlight Program. The same services (minus the PR) can also be obtained from AMD.
You can get support from Epic, Nvidia, and Radeon engineers if the game you're making is interesting or uses advanced engine and hardware capabilities. They can help you optimize your game, deal with a complex render, or solve those trivial little problems that you just can't figure out.
Hardware vendors such as Nvidia and AMD have their own support format for developers called 'Featured Games'. These companies and engineers are quite active and open. You should get to know them. They can help you.
And don't forget a less common, but no less significant way to get exposure: presentations of new hardware. A vivid example of this kind of support is Nvidia's presentation at the recent Gamescom conference, where they used the game Atomic Heart to demonstrate their latest technology.
There are also national and regional foundations, associations, and programs that support game developers from their respective countries. I know developers who have received help from:
If your studio is from one of these regions you should take a closer look at these options. A more comprehensive list for Europe can be found in the Games Funding Guide.
When it comes to Russia (my stomping ground), the grant situation is downright dire: there are no government programs (which might be for the best), and private investment foundations are reluctant to enter the games industry due to difficulties in assessing profitability and high risks associated with the deteriorating economic situation.
Crowdfunding
Modern crowdfunding is focused on three platforms: Kickstarter, Indiegogo, and Fig. The last one stands a bit apart from the rest. Fig is actually more about "crowd-investing" than crowdfunding. As a rule, 50% of the funds raised on this platform are essentially "bonds" that entitle their owners to a share of your future profits.
If you can come to an agreement with Fig, they might let you use their Backstage Pass Program, which is essentially a private campaign for the most loyal Fig backers. This platform is especially interesting in that it helps with PR and actively promotes the games for which it raises funds.
"If your studio is from one of the UK or European Union, you should take a closer look at grant options [in these regions]"
During the last few years they've charged 25% prior to complete investment coverage and then 15% for three years for projects that are trying to raise amounts up to $100,000. For large projects they charge 12% to 13% pre-coverage and then 10% for three years. All else being equal, I'd consider Fig an investment fund rather than a crowdfunding platform.
In 2015 an employee of mine raised a little under $70,000 on Kickstarter for a game called Exoplanet, and in 2017 I ran a successful campaign for Ash of Gods. I also helped out several projects in early 2018. They managed their campaigns themselves, but it was a good opportunity for me to evaluate the validity of the recommendations I wanted to give.
Kickstarter hasn't been a gold mine for games since 2014. If you plan to raise at least $300,000 (gross), your advertising budget will total at least $75,000.
A Kickstarter in 2018 isn't about PR. Games journalists write almost nothing about KS projects these days. Protip: raise a lot of money quickly (preferably in the early days of your project). This will be newsworthy and increase your chance of getting coverage.
Active members of your audience (super backers) don't like to invest in projects that have a chance of failing. Focus on raising enough money or setting a confident trend in the first 5-7 days. You don't want it to take too long - this isn't about your project as much as it is about participating in a successful venture.
If you aim to raise $Х, set your goal at $Х/3 (so if you want $100,000, aim for $30,000) and invest enough time in planning the extra goals and bonuses for backers.
If you plan to raise less than $30,000 and don't have a fiercely devoted audience that's ready to give you financial support, don't even bother. A campaign involving PR studios, specialists, and/or agencies will cost you a hefty sum of $15,000 or more.
Start talking to your Kickstarter manager about the "Project We Love" badge at least two months prior to release. It's very important. Active KS users will receive a notification when your game launches, and you'll be featured on the main page.
Forget about text. GIFs and cool pictures are the way to go.
High organic visibility on Kickstarter's game pages and the main page: you want to have at least 5% of your goal coming in every day or traffic of at least 10,000 page visits per day (regardless of whether they back you or not).
The last 48 hours of the campaign are crucial. All of your backers will receive a 48-hour reminder. Extra goals, additional rewards - that's when it all happens. If you're 10% to 15% shy of your goal, you'll probably get it in the last two days.
"The last 48 hours of the crowdfunding campaign are crucial. Extra goals, additional rewards - that's when it all happens"
Cross-promotion works. See which projects are coming out or intend to come out at the same time as yours. Meet the devs, make joint plans, and write about each other in updates. Think about when, how, and from whom you can get a content plan with publications every two to three days.
Kicktraq is an amazingly convenient service. It's one of the few with very efficient advertising - both in the main promo section and elsewhere.
Don't rely too much on assistants such as BackerKit, BackerClub, C-Club, CrowdCrux, etc. They work very well with hardware, but not as well with games.
File this one under "for what it's worth": the average ROI for FB ads for game projects on Kickstarter in 2017 was 0.9 (at the end of my campaign I conducted a survey of 31 projects that ran between May and August of 2017).
Thunderclap still works. Overall, an active Twitter account is much more important for Kicktarter than Facebook. Many of your colleagues will help spread the word about your campaign.
Ads on Reddit work very well. I deliberately refrain from writing about how to get your posts to the top. Sure, it gives you up to 40,000 unique visitors a day in 'Gaming' and about 12,000 in 'Gamedev', but getting to the top of these subreddits is no mean feat.
Imgur is your secret weapon. Your goal is to get your post to the top of the 'Games' tag by the end of the week (Friday or Saturday). To do this, you need to get at least 600 likes (points) during the first hour and at least 5,000 in the first six hours - by any means necessary. Being featured on the first page will give you at least 300,000 views with a 5% to 7% conversion to hits if you use this "call to action" correctly.
If your goal is the "Funded with Kickstarter" badge, be ready to get underhanded, but know that it would take just 15 minutes for someone to find out.
Kickstarter is being used more and more as a proof of concept for investors. A shining example of this is the success story of Kingdom Come: Deliverance.
Your Kickstarter project could be shut down for a million reasons, including a spam complaint if you use someone else's email database.
Almost all of the backers who give you money represent your core audience. In other words, these are the people who are interested in buying your game. If you give the game to some users as a reward, you'll have to send them keys, so the reviews you get from them won't affect your rating.
Finally, if you're planning a crowdfunding campaign, you should definitely take a look at the Square Enix Collective. Moreover, if your goal is a proof of concept for investors, choose this option - it won't cost you a dime.
The rules are as follows: every month the project's team chooses four games out of those that made a pitch during the previous period. Then the platform's users vote for your game. If you get a high score, Square Enix will help you free of charge during your campaign period. They'll email collective users, write a story about you, and share a link to your campaign on Twitter and Facebook.
In the next entry of this series, I'll be looking at how localisation and LQA work.
Nikolay Bondarenko is chief technical officer for Protocol One and owner of Ash of Gods creator AurumDust.