Dragon Age team cans expansion, moves onto "the next phase"
BioWare has dropped plans for the Dragon Age 2 expansion, Exalted March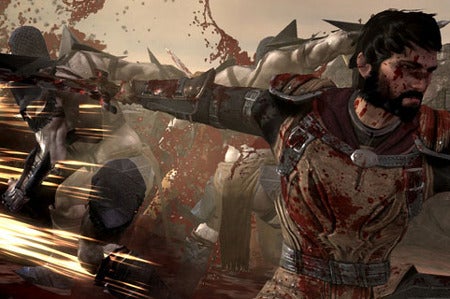 BioWare has decided to cancel work on more Dragon Age 2 content, and will be refocusing its Dragon Age team on the franchise's "next phase." Dragon Age 2 executive producer Mark Darrah announced the news in a post on the BioWare Social Network.
"While we will still be keeping an eye out for any issues that might crop up in DAII and supporting the community should any emergencies should arise, we're moving the entire team's focus to the next phase of Dragon Age's future," wrote Darrah.
"You've most certainly heard the rumors floating around, and unfortunately I can't really comment on them. However, what I can say is that we've been thinking a lot about Dragon Age - what it means, and where it could go. This past year, we've spent a lot of time both going back to the 'BioWare vault' of games and re-examining them, and looking at some new possibilities that today's industry allows."
"On behalf of the entire team, we are incredibly eager to reach the moment when we can tell you more and show you where we are taking Dragon Age. But for now, thank you for your continued support, and we will be back here with more as soon as we can," he continued.
Darrah revealed the working name for the scrapped expansion in a message on Twitter.
"We did have plans for an expansion pack to DA2 but, other DA opportunities came up. There were even shirts! It was called Exalted March," he wrote.
Dragon Age II was released to an intense backlash amongst players for changes in gameplay, but the game later grew an equally intense fan-following for some of its characters and story themes. With the current turmoil BioWare's Mass Effect 3 is undergoing due to its ending, the studio is actively working to make sure the next Dragon Age lives up to fans' expectations.
"With that, the next thing for the Dragon Age team members and I to do is hear from you, and not just on the forums, or Facebook, or Twitter. We'll be attending a number of conventions and gatherings, including PAX East in April. The most valuable thing we can get out of those meetings is to hear from you on those same topics - what does Dragon Age mean to you, and where would you like to see it go?" added Darrah in his forum post.