Dragalia Lost has lowest-grossing launch of Nintendo's mobile line-up
Publisher's latest mobile offering generates $3 million in Japan and US over five days
Nintendo has seen the lowest-grossing launch for any mobile game in its catalogue following the release of Dragalia Lost.
According to market intelligence firm Sensor Tower, the first five days of Dragalia Lost's release have seen it generate $3.5 million revenue.
With availability limited to only a few launch territories, including the US, Japan, Hong Kong, Taiwan, and Macau, the game has been downloaded over 800,000 times across both iOS and Android.
In order to compare the performance of Dragalia Lost against other Nintendo mobile titles, Sensor Tower analysed data from publisher's largest mobile markets: Japan and the US.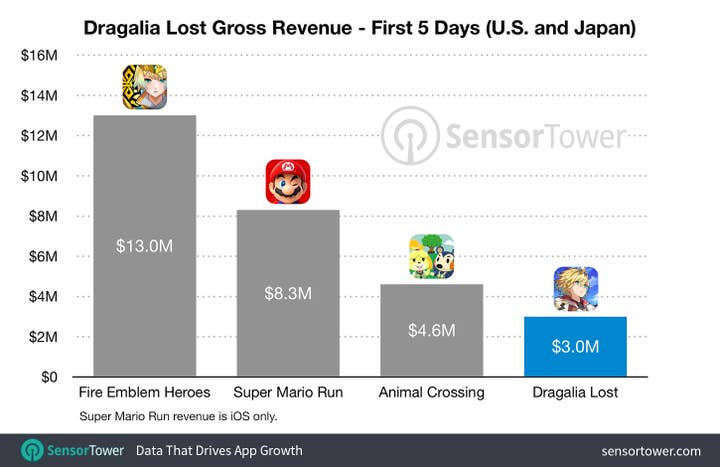 Dragalia Lost sits in dead last with just over $3 million revenue, behind the $4.6 million of Animal Crossing: Pocket Camp, the $8.3 million of Super Mario Run, and the $13 million of Nintendo's star performer, Fire Emblem Heroes.
However, it did enjoy a strong debut in Japan, ranking at No. 10 for App Store revenue over the weekend, and No. 3 on Google Play.
It made less of a splash in the US though, ranking No. 55 for US App Store revenue, and No. 35 on Google Play.
As a point of comparison, Fire Emblem Heroes is currently ranked No. 4 for App Store revenue in Japan, and No. 12 in the US.
"It should be noted that, unlike Nintendo's previous mobile releases, Dragalia Lost has far less name recognition to bank on as its first brand-new mobile property," said Randy Nelson, head of mobile insights at Sensor Tower.
"It remains to be seen how the publisher will promote the title going forward to compensate for this fact, but it's clear that the Nintendo name alone has been enough to generate some initial excitement around the game."