Disney consolidating games business, John Pleasants out
The Walt Disney Company is consolidating Disney Interactive under president Jimmy Pitaro (on left in picture)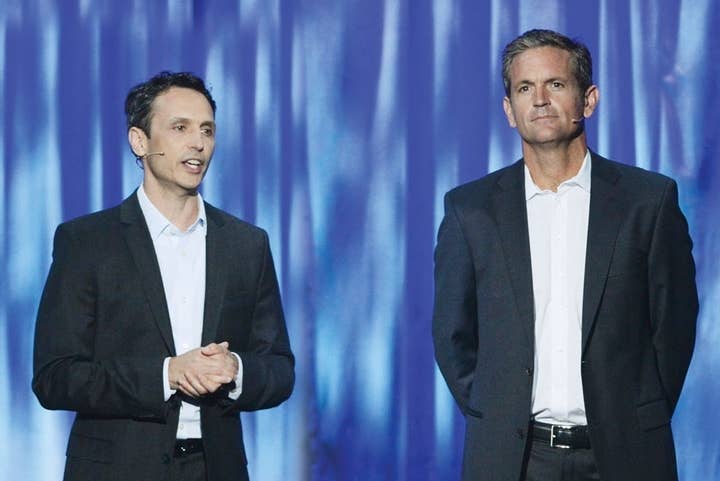 The Walt Disney Company has announced that the Games and Media operating groups of Disney Interactive will merge with current co-president Jimmy Pitaro now assuming responsibility for the division. Co-President John Pleasants will be leaving his current post, but he will work closely with Pitaro "to ensure a smooth transition and serve as a strategic consultant to the business."
"Following three years of consistent operating improvement at Disney Interactive and a great partnership between John and Jimmy, we are now in a position to fulfill our original objective to consolidate our Interactive business under one Los Angeles-based leader," said Robert A. Iger, Chairman and CEO, The Walt Disney Company. "With Jimmy and John's input, we have created an Interactive organization that is best structured to meet the demands of the fast-moving technology industry. I thank John for his many contributions to Disney Interactive including building tentpole products like Disney Infinity and establishing the company as a leading mobile games publisher and appreciate his passion for bringing Disney experiences to Guests on new platforms."
"John has been critical in helping Disney Interactive build a great foundation off of which we will continue to deliver quality interactive games, mobile and web experiences that entertain and engage our Guests," said Pitaro. "I thank John for his partnership and look forward to working with him on the transition."
"I am extremely proud of the work our teams have done to create leading interactive games and experiences for our guests," added Pleasants. "Through quality and innovation, the business is generating tangible results and momentum, and I am confident that consolidating our collective efforts at this time will lead to even greater acceleration."
During last week's earnings call, Disney announced that its Disney Infinity game/toy hybrid had sold over 1 million starter packs, helping to bring the gaming division back into the black. "With the continued convergence of web and mobile entertainment platforms, Disney Interactive will move forward with a singular strategy for driving revenue and advertising across key platforms and franchises," the company said today about its reorg. In addition to Club Penguin, Disney's digital focus is now on mobile, and the firm has had seven number-one and 33 Top 25 mobile games over the past year.