Digital summer sales propels GTA 5 back to No.1 across Europe | European Monthly Charts
The highest charting new game was Pikmin 4 at No.11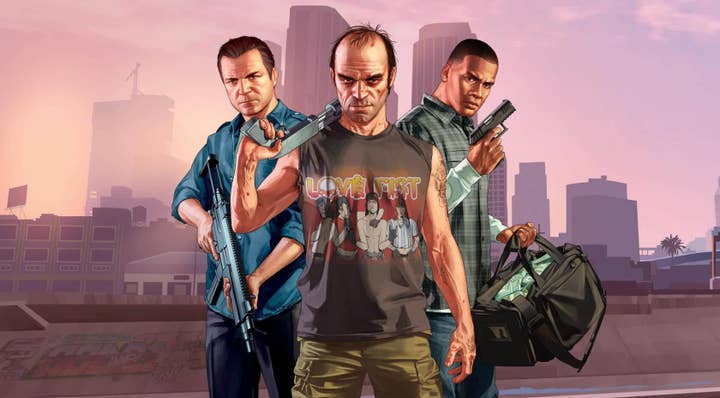 11.6 million console and PC games were sold in July across Europe, up 34% over the same period in 2022.
Digital downloads represented nearly 7.9 million of that (up 60%), while physical was 3.75 million (up 0.2%).
This is according to GSD data, which includes digital sales from most AAA games publishers in every European country. It also includes physical sales of games in the big European markets. For the full breakdown of countries and publishers, see bottom of the article.
Major summer promotions on PlayStation and Xbox have transformed the charts, with Grand Theft Auto 5 back at No.1 and Red Dead Redemption 2 at No.3. Both Rockstar games were discounted on console last month, particularly on PlayStation formats.
The highest charting new game was Nintendo Switch exclusive Pikmin 4 at No.11 (please note, Nintendo first-party games do not include digital download figures). It may not look like a particularly strong debut, but for the first two weeks on the market, Pikmin 4 sales are up 81% compared with what Pikmin 3: Deluxe managed in October 2020.
In terms of hardware, 493,000 games consoles were sold across tracked European countries, which is 62.5% up over July 2022 but 2% down compared with June this year. Tracked markets are missing two key territories in Germany and the UK. UK hardware figures for July can be found here.
PS5 comfortably led the month in Europe, with console sales up 244% over July last year. There were strong price promotions on PS5 in July, and as a result sales were also up 24% over June. Overall, year-to-date PS5 sales are up 203% across the tracked territories.
Nintendo Switch finished the month in second place, with sales down 9% compared with July 2022. Year-to-date, Nintendo Switch sales are flat compared with 2022.
European GSD July 2023 Top 20 (Digital + Physical)
| Position | Title |
| --- | --- |
| 1 | Grand Theft Auto 5 (Rockstar) |
| 2 | FIFA 23 (EA) |
| 3 | Red Dead Redemption 2 (Rockstar) |
| 4 | Diablo 4 (Activision Blizzard) |
| 5 | Hogwarts Legacy (Warner Bros) |
| 6 | The Legend of Zelda: Tears of the Kingdom (Nintendo)* |
| 7 | The Crew 2 (Ubisoft) |
| 8 | F1 23 (EA) |
| 9 | Call of Duty: Modern Warfare 2 (Activision Blizzard) |
| 10 | NBA 2K23 |
| 11 | Pikmin 4 (Nintendo)* |
| 12 | Elden Ring (Bandai Namco) |
| 13 | Mario Kart 8: Deluxe (Nintendo)* |
| 14 | Tom Clancy's Rainbow Six: Siege (Ubisoft) |
| 15 | A Way Out (EA) |
| 16 | Grand Theft Auto Online (Rockstar) |
| 17 | Civilization 6 (2K Games) |
| 18 | Call of Duty: Black Ops 2 (Activision Blizzard) |
| 19 | It Takes Two (EA) |
| 20 | Final Fantasy 16 (Square Enix) |
* Digital data unavailable
GSD digital data includes games from participating companies sold via Steam, Xbox Live, PlayStation Network, Nintendo Eshop. Major participating companies are Activision Blizzard, Bandai Namco, Capcom, Codemasters, Electronic Arts, Embracer Group (including Gearbox, Koch Media, Sabre Interactive), Focus Entertainment, Konami, Marvellous Games, Microids, Microsoft (including Bethesda), Milestone, Nacon, Paradox Interactive, Quantic Dream, Sega, Sony, Square Enix, Take-Two, Ubisoft and Warner Bros. Nintendo and 505 Games are the notable absentees, alongside smaller studios.
Digital data includes games sold in Austria, Belgium, Bulgaria, Croatia, Cyprus, Czech Republic, Denmark, Finland, France, Germany, Greece, Hungary, Iceland, Ireland, Italy, Luxembourg, Malta, Netherlands, Norway, Poland, Portugal, Romania, Russia, Slovakia, Slovenia, Spain, Sweden, Switzerland, Turkey, Ukraine, and United Kingdom.
Physical data includes all games, but only those sold in Austria, Belgium, Denmark, Finland, France, Germany, Italy, Netherlands, Norway, Poland, Portugal, Spain, Sweden, Switzerland and United Kingdom.
Console hardware sales cover Belgium, Denmark, Finland, France, Italy, Portugal, Russia, Spain, Sweden and Switzerland. Accessories sales cover the same markets, but doesn't include Switzerland.